Trump Won the Republican Debate He Didn't Even Attend
Nearly every Republican candidate on stage said they'd support Trump for president, even if he is convicted.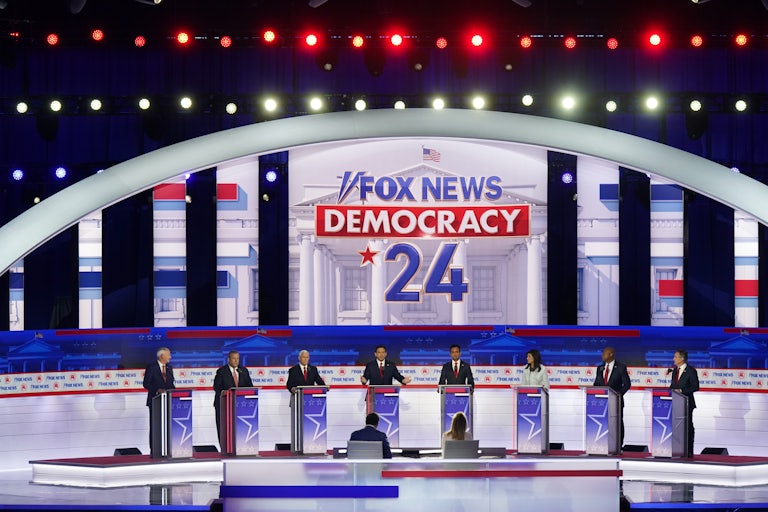 Al Drago/Bloomberg/Getty Images
Six of the eight Republican presidential candidates said during the debate Wednesday that they would support Donald Trump if he got the nomination, even if he were convicted in one of his many legal battles, a sign of how much influence he still has over the party.
The eight leading presidential candidates, minus frontrunner Trump, took the stage in Milwaukee. When moderator Brett Baier referred to Trump as "the elephant not in the room," the crowd cheered.
Baier then asked the candidates to raise their hand if they would still support a convicted Trump as nominee, reminding them that they signed a pledge to support whoever wins the party nomination.
Doug Burgum, Tim Scott, Nikki Haley, Vivek Ramaswamy, and Ron DeSantis all raised their hands. So did Mike Pence, despite the fact that an angry mob of Trump supporters wanted to hang him during the January 6 insurrection.

Chris Christie also half-heartedly raised his hand, but later clarified that it was in disapproval. "Here's the bottom line: Someone has got to stop normalizing this conduct," Christie said. "Whether or not you believe the criminal charges are right or wrong, the conduct is beneath the office of president of the United States." His comments were met with both cheers and boos.

Asa Hutchinson also did not raise his hand and said Trump has been "morally disqualified from being president again."
Still, the majority's weird hand-raising is a sign of how powerful Trump still is. He isn't even at the debate, he is facing 91 charges and will be arrested for the fourth time later this week, and yet everyone is still too afraid to criticize him.
This article has been updated to clarify that Chris Christie raising his hand was in disapproval, not support, of Trump.