South Carolina Governor Signs Draconian Abortion Ban Behind Closed Doors
With Governor Henry McMaster's signature, abortion access in the South has been effectively wiped out.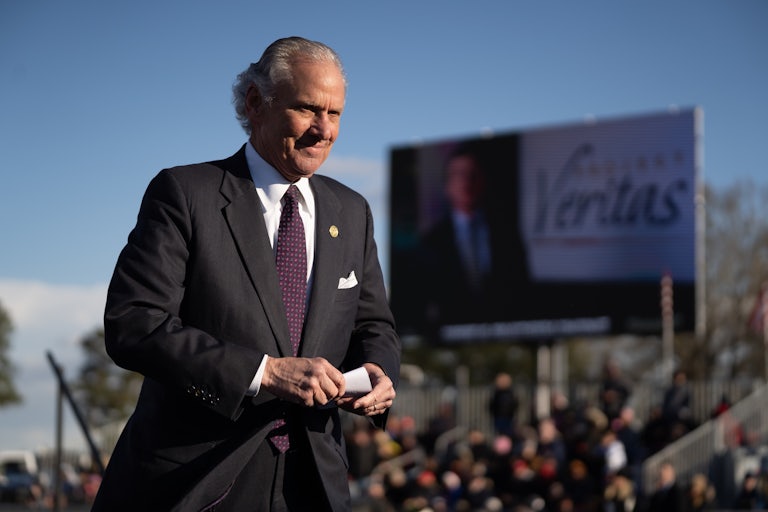 Sean Rayford/Getty Images
South Carolina Governor Henry McMaster signed a bill Thursday banning abortion after six weeks, wiping out access to the procedure for the entire Southeast.
A similar ban had died in the legislature in late April after all of the female senators, who span the political spectrum, banded together to filibuster the measure. But McMaster called the lawmakers back for a special session to consider multiple measures, including a new abortion ban, which passed the legislature on Tuesday. He signed the bill behind closed doors, with no fanfare or warning to doctors who could be about to perform a newly illegal procedure.
"What we are doing today is not going to do away with illegal abortions. It is going to cause illegal abortions," warned Republican Senator Sandy Senn during the final debate.
Addressing state residents directly, she said, "When … your teenagers end up dying because they went to get an illegal abortion because they didn't know they were pregnant before six weeks, it is our fault!"
The new law bans abortion after six weeks, before many people even know they are pregnant. It includes exceptions for rape and incest up to 12 weeks, but health care providers are required to tell patients that they will report the assault to law enforcement. This could discourage people from seeking abortions because they don't want to report the attack.
The measure also prohibits mental health from being considered a medical emergency, so even if someone is diagnosed as suicidal, they still cannot get an abortion. Doctors who break the law face fines and up to two years in prison.
While the law does require child support payments be made from the moment of conception, writer Jessica Valenti points out that this is less to help the pregnant person and more to establish that personhood begins at conception.
The South Carolina arm of Planned Parenthood Votes South Atlantic has already said it intends to try to block the law in the courts. There is a slim chance it will succeed: After Roe v. Wade was overturned, South Carolina enacted a six-week trigger ban, which the state Supreme Court blocked in January. The new law is an attempt to circumvent the ruling, and if it's challenged in court, it's possible the state's high court will block it once more.
But until it is blocked, abortion access will be decimated in the South. After Florida and North Carolina codified new abortion restrictions in quick succession, South Carolina was one of the last states in the South to hold the line on access to the procedure. Now that it has fallen, it will be next to impossible for anyone in the region to get an abortion.