The Ron DeSantis Twitter Campaign Launch Was a Disaster
The Florida governor's attempt to kick off his presidential candidacy from deep within Elon Musk's collapsing empire went exactly as well as you'd expect.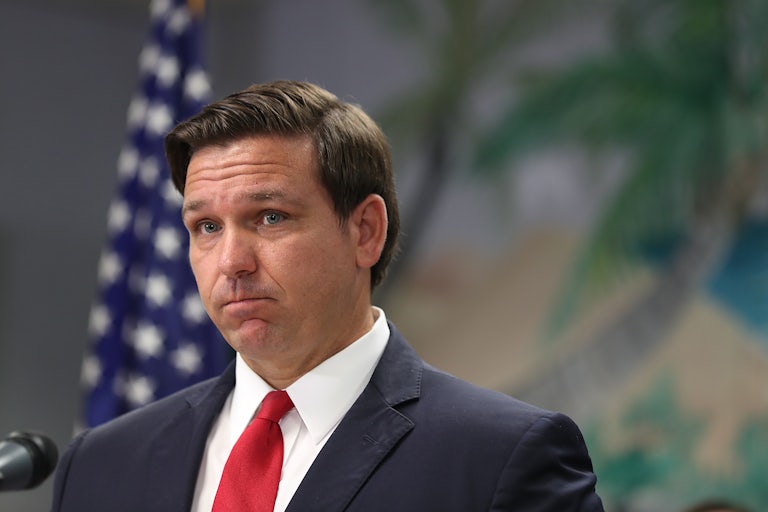 Joe Raedle/Getty Images
Ron DeSantis's presidential launch was supposed to be a rebranding moment. Faltering in the polls in recent weeks, the Florida governor had lost much of the heir-to-Trumpism sheen he had earned during his tenure in the Florida statehouse. If he once seemed like the future of the Republican Party, lately he's just seemed, well, weird: Upon closer inspection—and put next to Donald Trump—he has been robotic, odd, and uncharismatic.
But DeSantis's campaign launch on Wednesday was supposed to turn the page on all that. Rather than the usual pageantry—a rally in a hometown, flanked by family, broadcast on Fox News during prime time—DeSantis's team decided to take a big risk. They would take the campaign to Donald Trump's turf and launch it on Twitter, in a live interview with influencer David Sacks and Twitter CEO Elon Musk. DeSantis was coming for Trump's core audience: the terminally online.

Well, you get what you pay for, I guess! Hundreds of thousands of users logged on to watch the campaign launch on Twitter Spaces only to overload the social network's wheezing servers. Musk and Sacks could occasionally be heard mumbling in grainy audio. Mostly, though, there was just silence. It was glitchy, awkward, and strange—a metaphor for DeSantis's own faltering presidential campaign. "You broke the internet," Musk could be heard awkwardly mumbling at one point. It was a comment better directed at himself, given the current shambolic state of Twitter.
Thirty minutes after it was scheduled to start, the event finally got underway—with the expected array of awkward braying about "free speech" and dismissal of invocations of racism. DeSantis shrugged off a recent NAACP travel advisory: "Under the leadership of Governor DeSantis, the state of Florida has become hostile to Black Americans and in direct conflict with the democratic ideals that our union was founded upon," NAACP President and CEO Derrick Johnson said. Musk similarly dismissed criticisms that Twitter had become overloaded with Nazis, racists, and freaks under his leadership.

Wasn't this supposed to be a campaign kickoff? If so, it could hardly be described as a success. A few hundred thousand viewers is impressive, but DeSantis probably could've gotten significantly more if he had launched on, say, a Fox News prime-time show. He would, at the very least, have gotten some level of broadcast professionalism (and substantially less hold music): The glitchy, awkward, audio-only format of Twitter Spaces hardly helped assuage concerns that DeSantis lacks the charisma and human touch most successful presidential campaigns require.

Still, DeSantis ultimately got the extremely online event he wanted: one aimed at Musk fanboys and other online weirdos. But that doesn't mean it was a success. Much like a recent rocket, this can only be described as a classic failure to launch.