Queen of Civility Marjorie Taylor Greene Complains About Lack of "Respect" After Being Yelled at in Restaurant
The Georgia representative has bullied a school shooting survivor and suggesting executing Democrats.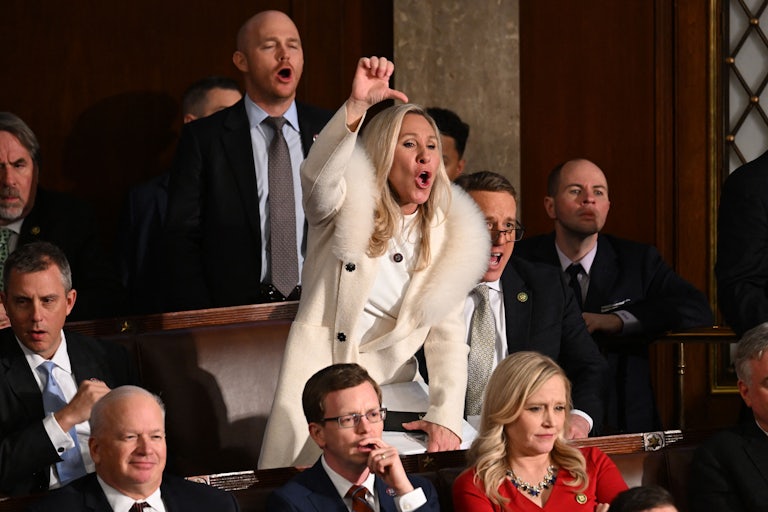 JIM WATSON/AFP/Getty Images
Marjorie Taylor Greene booing Joe Biden at the State of the Union
Marjorie Taylor Greene, known for always acting appropriately and civilly, decried the loss of "respect" for others with different political views after being yelled at in a restaurant.
The Georgia representative wrote on Twitter Monday night that two people screamed at her and her staff while they were out to dinner. She did not say what the people were screaming about nor what restaurant it was.
"People used to respect others even if they had different views," Greene tweeted. "But not anymore. Our country is gone."
Greene, of course, does not really have a leg to stand on when it comes to lecturing others on respect. She heckled President Joe Biden during his State of the Union address to the point that even her new ally Kevin McCarthy appeared to shush her.
Before she was elected to Congress, Greene came to Washington, D.C., and harassed gun control advocate and school shooting survivor David Hogg in 2019, peppering him with conspiracy theories and taunts. The year before, she began repeatedly suggesting executing prominent Democratic lawmakers.
Greene doesn't just hold "different" political views, but views that actively seek to suppress human rights. Just Monday night, she was one of two representatives to vote against a resolution mourning the loss of life in Turkey and Syria due to the recent earthquakes and condemning the Assad regime in Syria for exploiting the disaster to evade accountability.
She has spread conspiracy theories and antisemitic, homophobic, and transphobic rhetoric. Last week, she called for a "national divorce," by which she really meant installing a white supremacist, single-party authoritarian government.
Republicans have become notorious for not being able to handle what they dish out. Sarah Huckabee Sanders was livid when comedian Michelle Wolf said at the 2018 White House Correspondents' Dinner that the then-White House press secretary "burns facts and then she uses that ash to create a perfect smokey eye." Sanders was also upset that same year when she went to dinner at a restaurant in Virginia called The Red Hen and the owner asked her to leave.

"Faced with the prospect of serving a fine meal to a person whose actions in the service of our country we felt violated basic standards of humanity, we balked. We couldn't do it," the owner, Stephanie Wilkinson, said in a 2019 op-ed in The Washington Post. Wilkinson said her request was discreet and polite, and Sanders responded in kind. But the next day, Sanders called the restaurant out by name on Twitter.
Civility, of course, swings both ways. After Sanders tweet, Wilkinson said that she and her staff had their personal information published online and were inundated with hate mail. The restaurant phone line was hacked, the Yelp profile was flooded with fake bad reviews, and people made reservations and never showed up.
Another restaurant called Red Hen, an unaffiliated business in Washington, D.C., also became the target of similar vitriol after Sanders supporters mixed up the two establishments. Sanders is now the governor of Arkansas.