South Carolina Passes Extreme Abortion Ban, Wiping Out Access Across the South
South Carolina was one of the last states in the South that allowed abortion.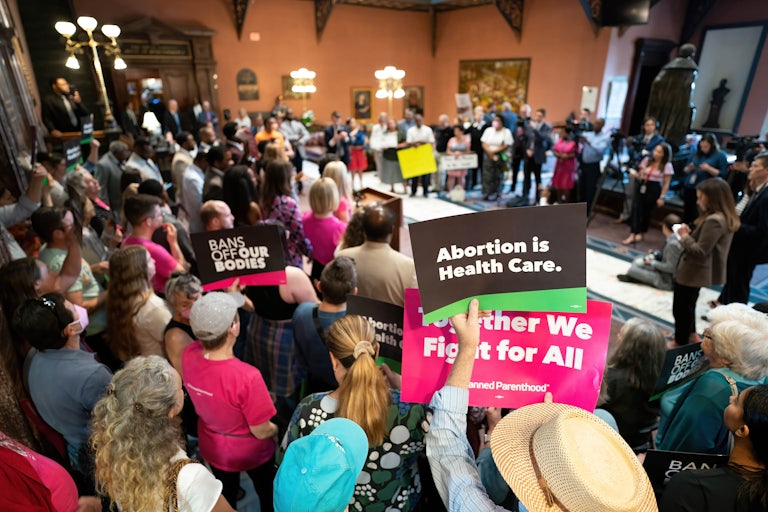 Sean Rayford/SOPA Images/LightRocket/Getty Images
Demonstrators and lawmakers gather with signs and placards in the lobby of the South Carolina statehouse to oppose the six-week abortion ban, on May 16.
The South Carolina Senate passed a bill Tuesday banning abortion at six weeks, before many people even know they are pregnant, and wiping out abortion access in the final southeastern state.
A similar ban died in the legislature in late April after all of the female senators, who span the political spectrum, banded together to filibuster the measure. But Republican Governor Henry McMaster called the lawmakers back for a special session to consider multiple measures, including a new abortion ban. The bill passed by a vote of 27–19.
"We are not God. We need to let people make decisions for themselves," said Senator Katrina Shealy, a Republican.
Republican Sandy Senn pointed out that the Senate had heard "no medical testimony" about the bill and that if the ban becomes law, it will likely cause illegal abortions to increase.
She asked South Carolinians to remember in the future that when their children "are dying" from having to get illegal abortions, "it is our fault!"
House Democrats had filed 1,000 amendments to try to block the measure from reaching a final vote, but it wasn't enough. The self-named "sister senators" tried to filibuster the measure, but they too were defeated. All three Republican men who voted against the initial ban switched sides and voted for the six-week ban.
Abortion is currently legal in South Carolina until 22 weeks, although the state had multiple restrictions, such as a mandatory 24-hour waiting period and biased counseling, aimed at running out the clock. If McMaster signs the new bill into law, then abortion access will be essentially wiped out for the entire southeastern United States.
After Florida and North Carolina codified new abortion restrictions in quick succession, South Carolina was one of the last states in the South to hold the line on access to the procedure. Now that it has fallen, it will be next to impossible for anyone in the region to get an abortion.
There is a slim chance the new law may not stick, though: After Roe v. Wade was overturned, South Carolina enacted a six-week trigger ban, which the state Supreme Court blocked in January. The new bill is an attempt to circumvent the ruling. If the new measure is challenged in court, it's possible the state's high court will block it once more.