Republican Rep Torches McCarthy for Biden "Impeachment Theater"
The hard-line Republican had some choice words for Kevin McCarthy.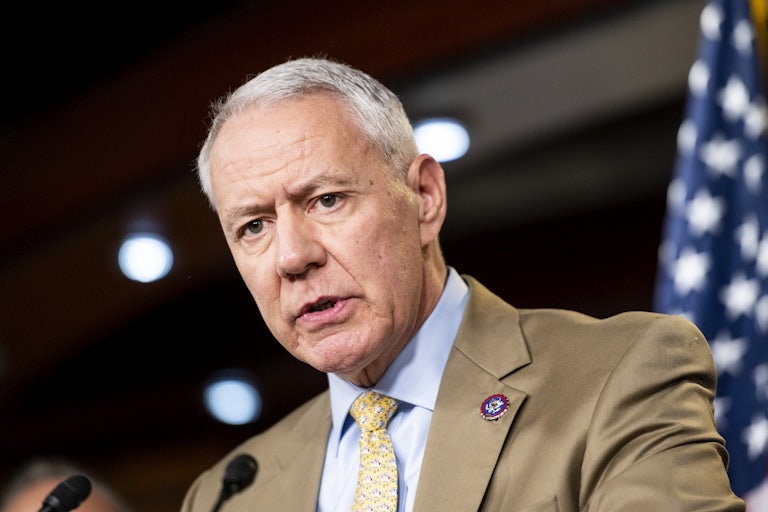 Bill Clark/CQ-Roll Call, Inc/Getty Images
Representative Ken Buck
Republican Representative Ken Buck on Wednesday accused Kevin McCarthy of raising the idea of impeaching Joe Biden to distract the public.
McCarthy said this week that the Republicans' (bogus) investigation of Biden was "rising to the level of impeachment inquiry," despite previously calling attempts to impeach the president immature. The House Freedom Caucus, the GOP's farthest-right wing, and other hard-line Republicans have been pushing the idea of impeachment proceedings for some time now.
But Buck, a member of the Freedom Caucus, is calling out McCarthy, saying that talking about impeachment right now is irresponsible. "This is impeachment theater," the Colorado Republican told CNN's Dana Bash. "We right now are starting the appropriations process, and there is not consensus on the Republican side about what the numbers should be."
Buck pointed out that when McCarthy became House speaker, he had promised not to raise the debt ceiling. But he later struck a deal with Biden to do just that (after a Republican-manufactured crisis that brought the United States to the brink of default).
"What he's doing is he's saying, 'There's a shiny object over here, and we're really going to focus on that. We just need to get all these things done so that we can focus on the shiny object,'" Buck said. "Most of us are concerned about spending."
"I don't think it's responsible for us to talk about impeachment."
Buck did say he supported the House Republicans' (so far evidenceless) probe into the Biden family's alleged wrongdoing, but he warned that talking about impeachment already could give Americans the wrong impression.
McCarthy escalated the investigation to a new level on Monday when he put impeachment on the table. Other Republicans have tried to impeach Biden before. Both Marjorie Taylor Greene and Lauren Boebert introduced articles of impeachment over Biden's handling of immigration at the U.S.-Mexico border—a sore point that led to Greene calling Boebert a "little bitch" on the House floor.
When Boebert introduced her articles in June, McCarthy called the move premature and urged his fellow Republicans to oppose it. He reportedly told lawmakers that impeachment "strengthens Biden and weakens us."