Rudy Giuliani Is a Disgusting Creep (Who Also Tried to Sell Pardons)
A new lawsuit against Giuliani has some horrifying details—of how he allegedly raped an employee and how he plotted to undermine our democracy.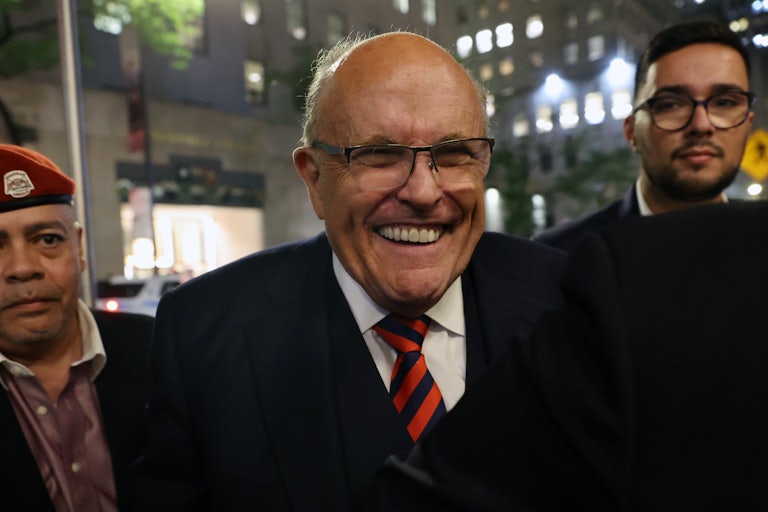 Spencer Platt/Getty Images
Former New York City Mayor and Trump lawyer Rudy Giuliani allegedly promised to pay a woman a $1 million annual salary to be his close associate, and instead raped and abused her over the course of two years. He was allegedly constantly drunk, plotted to sell pardons to criminals, and made racist and antisemitic comments. And he also apparently never paid the woman he abused for months on end.
The litany of disturbing accusations come in a $10 million lawsuit buttressed by phone records, thousands of emails, and recorded conversations, all brought by the victim, Noelle Dunphy. The bombshell lawsuit reveals in great detail how Giuliani sexually assaulted his employee and, at the same time, how he has long been planning to undermine our democracy.
Dunphy's lawsuit states that Giuliani allegedly first met her in 2016, in the lobby of the Trump Tower. The Trump lawyer asked her details about her life and suggested his interest in hiring her. Three years later, Giuliani sent Dunphy a Facebook message and friend request.
Incredibly odd timing, but Dunphy was coincidentally looking for a job. Soon enough, Giuliani offered her a proposal that seemed too good to be true: Be his director of business development for the Giuliani Companies and also his personal executive assistant—all for a $1 million salary.
But it all came with one strange provision: Her pay would have to be deferred, and her employment kept a "secret" until Giuliani's divorce proceedings finished up. Giuliani apparently claimed his ex-wife and her legal team were monitoring his finances and so he was somehow limited in his financial decisions; moreover, his ex-wife would "attack" and "retaliate" against any female employee he would hire.
A final attachment to the offer? After Giuliani found out Dunphy was a domestic abuse survivor, he offered to represent her pro bono in any legal matters related to her case.
According to the lawsuit, the grossness immediately ensued. Literally after the interview, Giuliani made Dunphy come to a meeting with his team and Ukrainian associates to discuss her work with the company. During that meeting, Giuliani drank excessively and pressured Dunphy to join along. Afterward, Giuliani told his bodyguard to buzz off, so he could have some private time with Dunphy in the backseat of a limo serviced car.
Once alone, Giuliani kissed Dunphy and asked if he could come into her home; she declined and thanked him for the job. But before the goodbye could happen, Giuliani leaned even further in, saying that since the pair would be working from different locations, he would like it if Dunphy sent him flirtatious photos. After Dunphy finally escaped, Giuliani still called her five times that same evening.
And that repellent first day characterized much of what was to come. The lawsuit's allegations are too numerous to detail, but here are just a few disturbing accusations.
On many occasions, as soon as four days into the job, Giuliani forced Dunphy to give him oral sex; he often made this demand while he was on the phone with high-profile individuals, including then–President Donald Trump. He forced Dunphy to begin working at his apartment, rather than the Giuliani Companies office. He demanded that "she work naked, in a bikini, or in short shorts with an American flag on them that he bought for her." Even when apart, he directed Dunphy to remove her clothes and would meanwhile visibly touch himself.
Giuliani rapidly grew more possessive, texting Dunphy things like "You're mine," and "Nobody will ever have you now," and even giving her a battery pack for her phone so she had no excuse not to be at his beck and call. Soon, he forced Dunphy to have sexual intercourse with him; he allegedly would not take "no" for an answer. He also wholly disregarded Dunphy's boundaries as a domestic violence survivor, imposing his interest in BDSM (bondage, dominance, sadism, and masochism) onto her on numerous instances. And during sex, he called her a "cunt," a "bitch," and "Rudy's slut."
"I think of you as my daughter. Is that weird?" he once asked Dunphy while sexually abusing her.
Outside of the constant sexual abuse and surveillance, Giuliani told Dunphy that if she knew anyone in need of a pardon, he and Trump were going in on selling them for $2 million a pop. He confided in her various plans to try to overturn the 2020 election results if Trump lost the election, including spreading the theory that "voter fraud" occurred.

And Giuliani's abuse wasn't limited to Dunphy, according to the lawsuit. Giuliani also made numerous inappropriate comments about other women. He told Dunphy of his being in love with three or four women, including his attraction to a 20-year-old employee more than 50 years younger than him. He apparently fantasized about her, and kissed her on the lips but did not "consummate" the relationship. He "just could not control" himself around her, he said, in a recorded conversation.
Beyond being a sex pest and cartoonish criminal, Giuliani also apparently was a Luddite; he had to have Dunphy explain to him what a podcast was.

When all was said and done, by the time Giuliani fired Dunphy two years later, she alleges she was paid only $12,000 of what should've been $2 million—for the job she was told she was getting.
The vile extent of Giuliani's alleged behavior is, again, too long to list here. A final taste of what else he reportedly said: He used the word "fag" to refer to actor Matt Damon. He mocked Senator Elizabeth Warren, saying: "Pocahontas was a really hot babe, and Warren does not look like a babe. She looks like a person in search of a gender." He also later said he was "very hot" for Warren. He stated that he would "get in trouble with underage girls" if they were 16 but looked 20. He implied that Jewish men's penises were inferior, due to "natural selection." He told Ms. Dunphy that "black guys hit women more than anybody else does … and so do Hispanic guys—it is in their culture." He said, "Jews want to go through their freaking Passover all the time, man oh man. Get over the Passover. It was like 3,000 years ago. The Red Sea parted: big deal. It's not the first time that happened." And he made comments about "freakin Arabs" and Jews.

To Giuliani, it seems, the most praiseworthy people are 16-year-old girls he could get away with sexually harassing.
Again, the lawsuit alleges that recordings for a lot of these comments exist, so expect this story to only get worse from here on out.