Democratic Congressman Drags GOP: At Least Gas Stoves Are Safe if Country Defaults
The Republican Party is holding a hearing on gas stoves, as we hurtle toward a national debt default.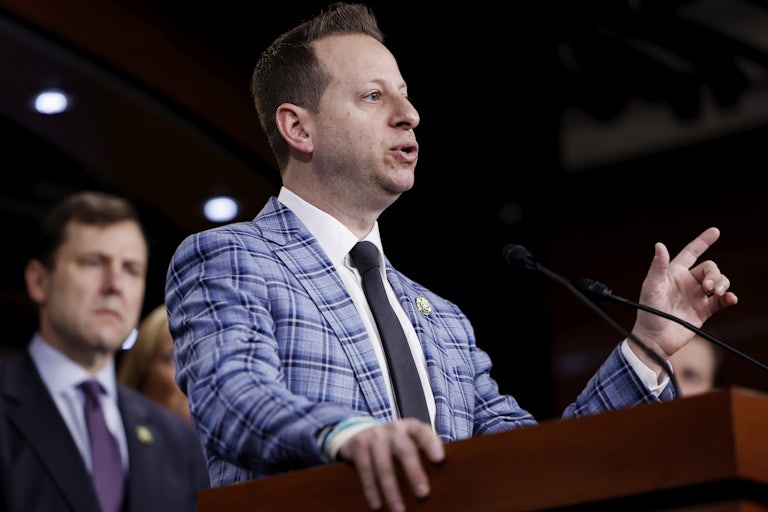 Anna Moneymaker/Getty Images
Representative Jared Moskowitz
Democratic Representative Jared Moskowitz roasted his Republican colleagues for prioritizing small culture wars over major social issues.
As the country hurtles toward a national default, the House Oversight and Accountability subcommittee held a hearing Wednesday on … gas stoves. The Energy Department's Consumer Product Safety Commission had announced in December that it was considering health regulations on gas stoves for the first time ever, following a report that gas ranges were responsible for almost 13 percent of childhood asthma cases.
Health officials have been adamant that the regulations would not ban gas stoves, but Republicans are steamed over the idea of regulations and insist that such policies would infringe on their freedoms.
"I got it, I get the bravado. We can pry your gas stoves from your cold, dead hands," Moskowitz deadpanned during the hearing. "I have a six-burner, double-oven range. It sits on legs. I mean, I miss her, right now, as we're talking about it."
"I want to apologize on behalf of the Democratic Party that we have decided to put kids—kids' safety in their neighborhoods, from getting gunned down in movie theaters or grocery stores or school churches or synagogues—we as Democrats have clearly lost our way," he said.
Moskowitz also sarcastically pointed out that even if the United States defaults on its debt, which it is just weeks away from doing thanks to Republican stonewalling, at least gas stoves will still be there.
The U.S. is on track to have a record-high number of mass shootings in 2023. Meanwhile, the country's economy teeters on the brink, as Republicans apparently refuse to negotiate on the debt ceiling. How useful will those gas stoves be when no one can afford the gas to power them?