Trump Plans to Upstage Republican Debate With Tucker Carlson
Tucker Carlson has privately told people he hates Trump "passionately." Now, Trump wants to sit down with him for an interview.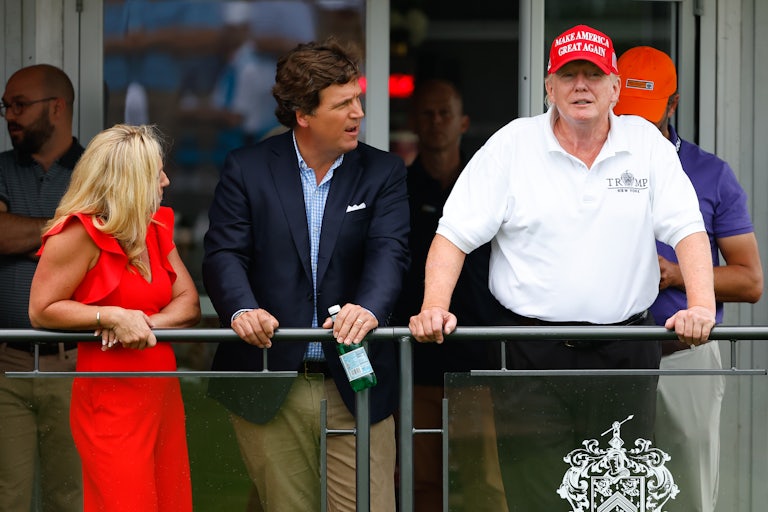 Rich Graessle/Icon Sportswire/Getty Images
Donald Trump has officially decided he will not attend the Republican presidential debate. Instead, he'll do an interview with Tucker Carlson, who has privately said he hates Trump "passionately."
Trump made the decision within the last 24 hours, The New York Times reported Friday, citing anonymous sources briefed on his plan. A date has not been set for the interview yet, but if he goes through with it, then all of the buzz and attention is expected to be on him instead of his opponents.
The former president has been toying for months with passing on the debate. His decision-making process involved talking to aides and asking crowds at rallies whether he should participate or not. Trump's logic is that he is the frontrunner, so there's no need for him to debate. (Trump should, of course, have to participate in the debate and explain his policy ideas to voters.) He also said he won't sign the Republican loyalty pledge required to participate.

"Why would I Debate? I'M YOUR MAN," he wrote on Truth Social Thursday night.
Agreeing to an interview with Carlson is an extra poke in the eye for Fox News, which is broadcasting the debate. Trump has called Fox a "hostile network" and criticized his former favorite network for not covering his campaign events.

Carlson was the network's star anchor, but he was unceremoniously fired earlier this year. He has since begun streaming a terrible show on Twitter, while Fox's viewer numbers tanked. They have since bounced back somewhat, but nowhere close to the ratings that Carlson drew.
Fox never revealed why it fired Carlson, but it was likely due to private messages Carlson sent that were revealed during the network's lawsuit with Dominion Voting.

Just two days before the January 6 attack, Carlson texted someone about Trump's time in office. "We're all pretending we've got a lot to show for it, because admitting what a disaster it's been is too tough to digest," he said. "But come on. There really isn't an upside to Trump."
"We are very, very close to being able to ignore Trump most nights. I truly can't wait," Carlson texted, adding, "I hate him passionately."