Trump Crowns Vivek Ramaswamy the Debate Winner … for Praising Him
Vivek Ramaswamy loves lavishing praise on Donald Trump, who he's supposedly running against.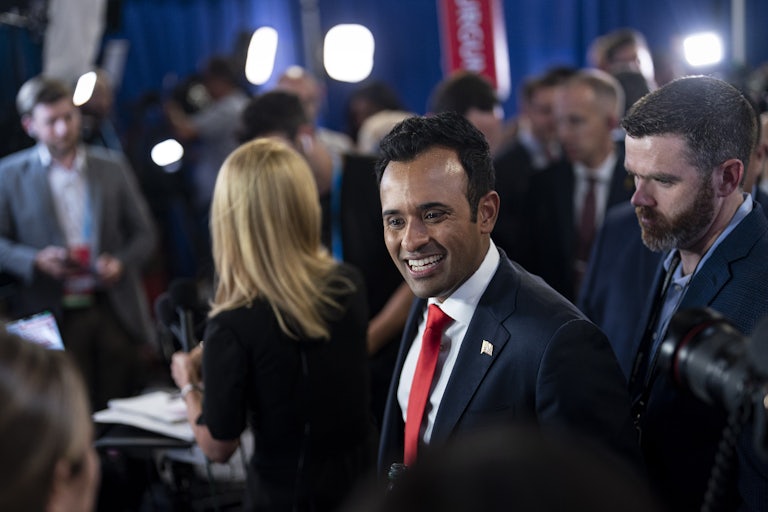 Al Drago/Bloomberg/Getty Images
Vivek Ramaswamy went out of his way to suck up to Donald Trump during the first Republican presidential debate, and it seems to have worked.

Trump praised Ramaswamy's performance in a Truth Social post early Thursday morning and included a clip of Ramaswamy calling Trump, "the best president of the twenty-first century."

In the post, Trump expressed his pleasure with Ramaswamy. "This answer gave Vivek Ramaswamy a big WIN in the debate because of a thing called TRUTH. Thank you Vivek!" Trump wrote.

Ramaswamy snagging the Trump-bestowed title of winner has only fanned the flames of speculation around whether Ramaswamy is only running to secure a spot as Trump's running mate in 2024.

During the debate, when the candidates were asked whether they would support Trump as a nominee even if he were convicted, Ramaswamy was the first to shoot his hand in the air, while other candidates seemed a little more hesitant. Still, seven of the eight Republican candidates ultimately raised their hands, showing just how much power Trump still has over the Republican Party.

Trump has of course not yet made any formal indication of whom he would consider as his pick for vice president if he does snag the nomination, which it currently seems like he will. If Ramaswamy isn't tapped by Trump, all of his cringy flattery, 9/11 denying, and conspiracy-theory spreading may have been for nothing.

Either way, how do Trump's boots taste, Vivek?