Judge Smacks Down Trump's Fourth Attempt to Delay E. Jean Carroll Case
Is E. Jean Carroll tired of winning yet?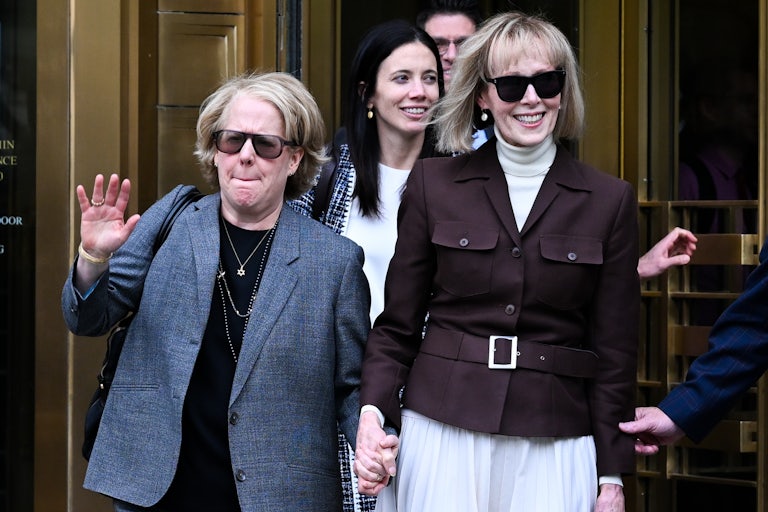 Alexi Rosenfeld/Getty Images
A judge on Friday rejected Donald Trump's fourth attempt to delay E. Jean Carroll's lawsuit against him, slamming the former president's arguments as "frivolous" and "without merit."
Trump was unanimously found liable in May for sexual abuse and battery against Carroll in the mid-1990s and for defaming her in 2022 while denying the assault. He was ordered to pay her about $5 million in damages. She has a second defamation lawsuit against him that is set to go to trial in January.
Trump has repeatedly tried to halt the second defamation suit. In December, he first began to argue that he has total presidential immunity against any lawsuits. The presiding judge rejected Trump's three previous attempts to make this argument, and Friday was no different.
"Mr. Trump's motion for a stay pending appeal…is denied. This Court certifies that the appeal itself is frivolous," Judge Lewis Kaplan wrote in the ruling.
Kaplan pointed out that Trump simply recycled arguments, sometimes verbatim, from his three previous unsuccessful appeals. Trump insists that the lawsuit should be delayed because he is likely to successfully appeal for presidential immunity and that he would be subjected to "irreparable harm" without a stay.
"Mr. Trump has not provided a single reason for the Court to find that there is any likelihood that he will succeed on appeal," Kaplan said.
The judge also noted that Trump's argument of irreparable harm is "entirely…without merit in the unusual circumstances of this case." Trump waited three years before bringing up his presidential immunity defense, and then another seven months before he actually moved to use that defense. His actions prove that Trump is just fine continuing to litigate the case, Kaplan said, and he only began to argue about immunity when it became clear he would have to stand trial.
Carroll accused Trump in her 2019 memoir of raping her in the Manhattan Bergdorf Goodman department store in the mid-1990s. She initially sued him twice for defamation: first in 2019, when he said she made up the rape allegation to promote her book, and again in November for posts he made about her on social media. Carroll is not the only woman to accuse Trump of sexual assault, but her first case was the first to make it to a courtroom.
Trump continues to vehemently deny all of the allegations and launched fresh vitriol at Carroll during the disastrous CNN town hall. She amended her second lawsuit, which is still pending, to include those comments.
Trump's case for presidential immunity also recently lost a major argument in his favor: The Justice Department no longer considers him immune.