The Proud Boys Conviction Has Killed the Right's Favorite Defense of January 6
"How many of the participants have been charged with insurrecting, with sedition, with treason?"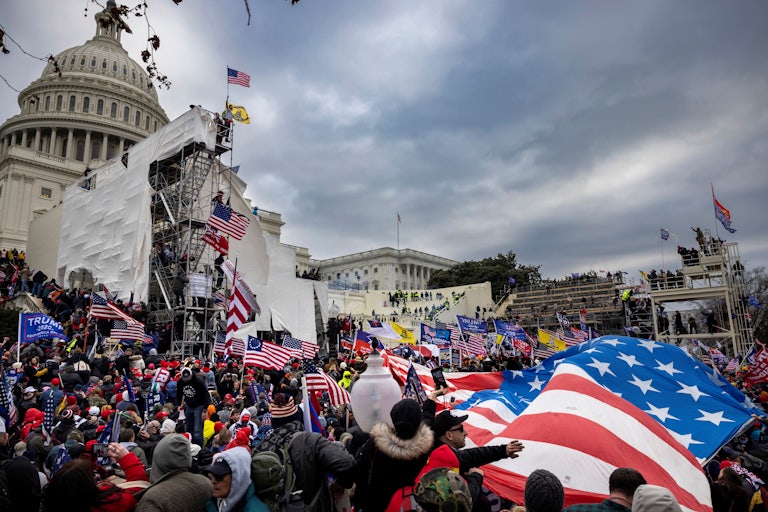 Brent Stirton/Getty Images
Trump supporters clash with police and security forces as people try to storm the Capitol on January 6, 2021.
The conviction of four Proud Boys for seditious conspiracy blows up a major right-wing campaign to downplay the January 6 attack.
Members of the right, particularly on Fox News, have long tried to whitewash the January 6 riot. Many claimed that it couldn't have been an insurrection because no one had been charged with seditious conspiracy. That, of course, is not true.
"Oh, it was an insurrection," Tucker Carlson said on his show just a few months after the attack. "So how many of the participants have been charged with insurrecting, with sedition, with treason? Zero." The talking point was common on Fox News—but also in right-wing circles more generally.
Well, on Thursday, four members of the far-right Proud Boys, including leader Henry Tarrio, were found guilty of seditious conspiracy, as well as conspiracy to obstruct Congress and obstruction of Congress. A fifth group member was also found guilty of obstruction of Congress but not the other charges. The Proud boys are a far-right, neofascist group known for promoting chauvinist views. Former President Donald Trump infamously told the Proud Boys to "stand back and stand by" during the September 2020 presidential debate, which prosecutors argued the extremist group took as a call to action.

There have now been a total of 14 convictions on seditious conspiracy over January 6, including that of Stewart Rhodes, the leader of another extremist group the Oath Keepers.