Rupert Murdoch's Response to Fox Legal Jeopardy? Retire.
The longtime chairman is resigning as chairman of Fox and News Corp. as the lawsuits pile up around him.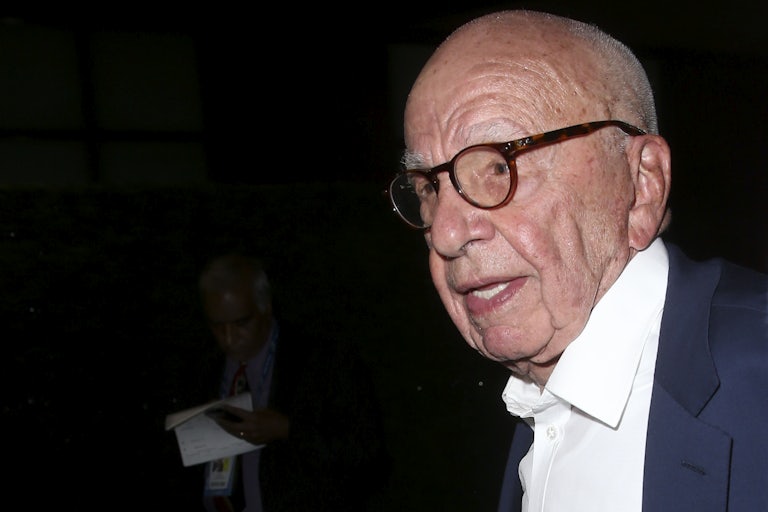 Jean Catuffe/GC Images
Rupert Murdoch announced Thursday that he is leaving his roles as chairman and CEO of News Corp and chairman of Fox Corp, amid a P.R. firestorm almost entirely of his own making.
Murdoch's son Lachlan will now take the helm of both companies.
"I am writing to let you all know that I have decided to transition to the role of Chairman Emeritus at Fox and News," he said in an internal memo. "But the time is right for me to take on different roles, knowing that we have truly talented teams and a passionate, principled leader in Lachlan who will become sole Chairman of both companies."
"Neither excessive pride nor false humility are admirable qualities. But I am truly proud of what we have achieved collectively through the decades."
The 92-year-old media mogul's resignation comes amid major struggles for both News and Fox Corps. News Corp reported more than a 75 percent drop in profit in August, primarily due to lower print and digital advertising at News Corp Australia, as well as low print advertising in the U.K. Prince Harry is also suing News Corp's British arm for multiple unlawful acts allegedly committed over several decades, including hacking his phone.
Fox News, meanwhile, is facing down a barrage of lawsuits and scandals, mostly related to the network continuing to spread lies about the 2020 presidential election. Murdoch has admitted in depositions for one of those lawsuits that he knew the stolen election conspiracy theory was false but he continued to let his network give airtime to its biggest proponents.
One lawsuit is from Smartmatic Voting Systems, which accused Fox of defaming it when network hosts said its voting machines contributed to election fraud. A Smartmatic attorney compared Murdoch to a mob boss during a hearing Wednesday.
"The mafia boss doesn't give the direction of exactly how the henchman carries out that hit," J. Erik Connolly said. "But, unquestionably, we would all say the mafia boss participated in the hit when the hit happened. Exact same thing happened here."
Donald Trump supporter Ray Epps has also sued Fox, and its former host Tucker Carlson, for defamation. He alleged Fox spread a bizarre conspiracy that he led an FBI plot to incite the January 6 insurrection. Epps pleaded guilty Wednesday to one count of disorderly or disruptive conduct on restricted grounds for his participation in the riot.
Earlier this year, Fox reported a $54 million loss after its costly settlement deal with Dominion Voting Systems, which also accused Fox of defamation after network hosts said Dominion voting machines had contributed to election fraud.
Fox also settled with former producer Abby Grossberg, who alleged that company lawyers coerced her into giving misleading testimony in the Dominion lawsuit. She accused Fox of having a culture of "poisonous and entrenched patriarchy."
This story has been updated.