Mar-a-Lago Employee Will Now Testify Against Trump in Classified Docs Case
A key witness has flipped against Donald Trump.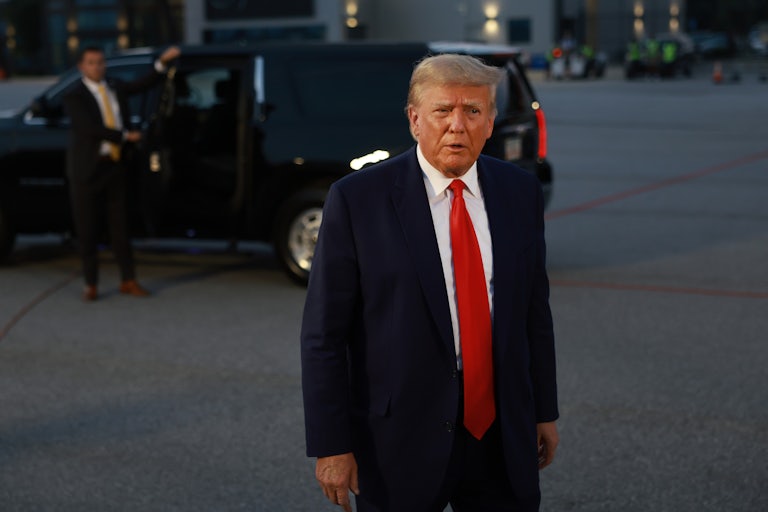 Joe Raedle/Getty Images
A Mar-a-Lago employee and key witness in the classified documents case against Donald Trump has agreed to testify against the former president.
Resort information technology worker Yuscil Taveras had initially denied to special counsel Jack Smith's team that there had been any conversations at Mar-a-Lago about security footage that prosecutors subpoenaed in 2022 as part of the investigation. But once he was assigned a new public defender in July, Taveras immediately recanted his testimony and gave a statement implicating Trump and his two co-defendants in efforts to delete the footage.
Taveras has now agreed to testify against Trump, Walt Nauta, and Carlos De Oliveira in exchange for avoiding prosecution, CNN reported Wednesday.

Trump was charged in Florida with keeping national defense secrets, making false statements, and conspiracy to obstruct justice, among other things, for hoarding classified materials at Mar-a-Lago. His body man Nauta and a Mar-a-Lago employee De Oliveira have also been charged. All three men are accused of trying to destroy evidence, including attempting to delete security footage off a server.
Taveras provided his original testimony when he was represented by Trump-appointed lawyer Stanley Woodward, who also represents Nauta. Prosecutors raised concerns in July that Woodward representing a defendant and a witness could create a conflict of interest. The chief judge presiding over Trump's other federal indictment case in Washington offered to assign a federal public defender to Taveras, and Taveras accepted.
"Immediately after receiving new counsel, Trump Employee 4 retracted his prior false testimony and provided information that implicated Nauta, De Oliveira, and Trump in efforts to delete security camera footage," an August filing from Smith said. Taveras was not named in the filing, but he was later identified through media reports.
Taveras's flip is a major blow to Trump's defense. Smith's team has sought to prove that Trump not only knew that he was wrong to keep classified documents but also tried to cover up his actions. Taveras's new testimony directly implicates Trump in the cover-up.