Judge in E. Jean Carroll Case: Yes, Donald Trump Is a Rapist
A judge rejected Trump's semantic attempt to throw out the case.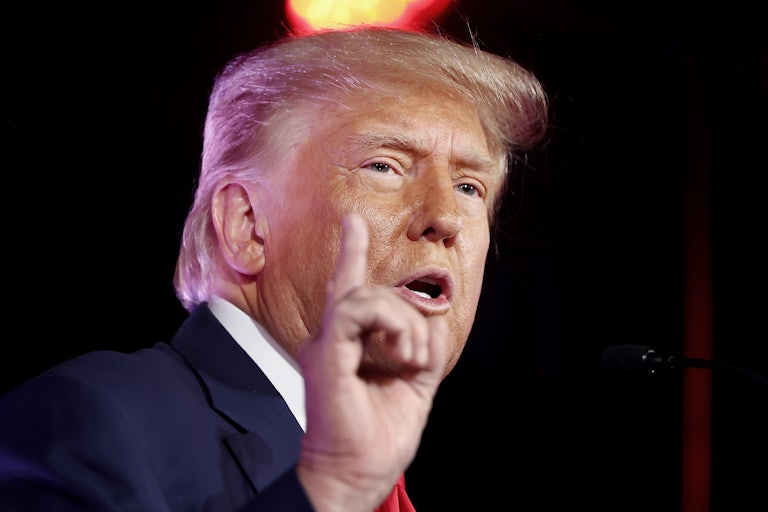 Mario Tama/Getty Images
On Wednesday, Trump's request for a new trial in the E. Jean Carroll case, after he was found liable for sexual abuse, battery, and defamation, was rejected. And in his desperate attempt to avoid accountability, the twice-impeached and twice-indicted former president may have unintentionally allowed himself to now be formally known as a rapist.
Trump's team had requested a new trial in the case, arguing that the $5 million in damages he was ordered to pay Carroll was excessive, because he was only charged with sexual abuse. The jury had not found that Trump "raped" Carroll, a talking point Trump's team often parroted.
But Judge Lewis Kaplan called Trump's semantic argument "entirely unpersuasive." He clarified that the jury found that the former president did indeed "rape" Carroll based on the common definition of the word.
Kaplan noted that New York penal law (the jury in the Carroll case was based in New York) has a "far narrower" definition of the word "rape" than in "common modern parlance, its definition in some dictionaries, in some federal and state criminal statutes, and elsewhere."
"The finding that Ms. Carroll failed to prove that she was 'raped' within the meaning of the New York Penal Law does not mean that she failed to prove that Mr. Trump 'raped' her as many people commonly understand the word 'rape,'" Kaplan wrote.
"Indeed, as the evidence at trial recounted below makes clear, the jury found that Mr. Trump in fact did exactly that [rape, as 'commonly' understood]."
"A United States District Judge has now formally held, in a lengthy written opinion, that it is perfectly appropriate, and, indeed, entirely accurate, to call a certain former President of the United States a rapist," noted George Conway, lawyer and husband to former Trump aide Kellyanne Conway.
All that to say, based on the legal language, a rapist—for the third presidential cycle in a row—is leading the 2024 Republican primary.