Pro-Trump Lawyer Cowardly Quits Rather Than Face Disbarment Trial
MAGA lawyer Lin Wood is facing disciplinary proceedings for his role in trying to overthrow the 2020 election.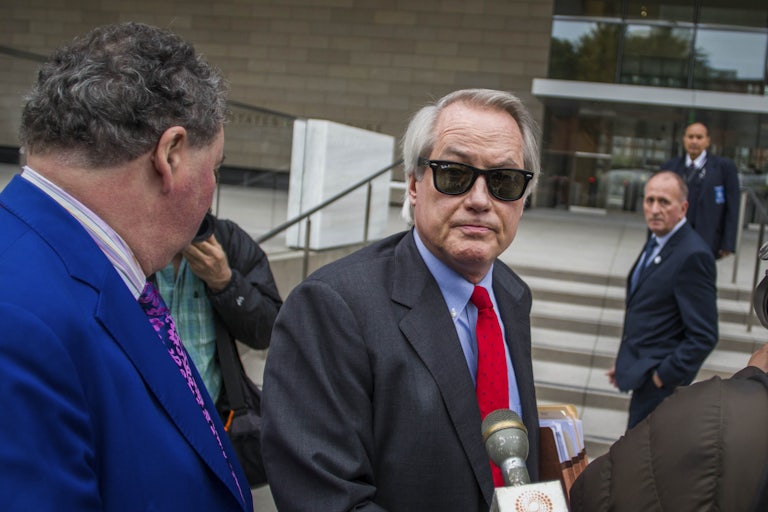 Apu Gomes/Getty Images
A pro-Trump lawyer has requested to permanently retire from practicing rather than face disciplinary proceedings that would have likely resulted in his disbarment.
Lin Wood was one of the first to promote the falsehood that the 2020 presidential election had been stolen. He was part of Donald Trump's legal team that unsuccessfully tried to overthrow the election. Since then, he has been embroiled in legal drama, after former colleagues sued him for breach of contract and a former QAnon ally sued him for defamation. The Georgia Bar held a trial for Wood in May to determine whether to disbar him, and Wood was sanctioned in Michigan for misconduct over the election fraud lawsuits.
On Tuesday, Wood sent a letter to the Georgia state bar requesting to be "permitted to transfer to Retired Status effective immediately." He can only transfer if the general counsel's office grants him permission because there are two disciplinary proceedings currently against him.
"I further understand and acknowledge that if granted Retired Status I am prohibited from practicing law in this State and in any other state or jurisdiction and that I may not apply for readmission," Wood wrote in the letter.
Wood is the latest Trump lawyer to fall. John Eastman, who also worked on the election fraud cases, is facing disbarment in California. Jenna Ellis was censured by the Colorado Bar for making false statements about the 2020 election. Sidney Powell is also facing disbarment, and was sanctioned in Michigan for alleging election fraud, the same case that saw Wood sanctioned.
Longtime Trump lawyer and ally Rudi Giuliani had his law license suspended for his efforts to overturn the election. He and Powell have been sued by voting machine companies Dominion Voting Systems and Smartmatic for falsely claiming the machines were involved in election rigging.
Giuliani also recently testified for about eight hours in front of special counsel Jack Smith, who has indicted Trump for mishandling classified documents and is still investigating the former president for his efforts to overturn the election. Giuliani answered questions about Trump, the January 6 attack, and Powell.