Joe Biden's Student Loan Forgiveness Plan Is Dead
The Supreme Court just blocked a debt forgiveness policy that helped tens of millions of Americans.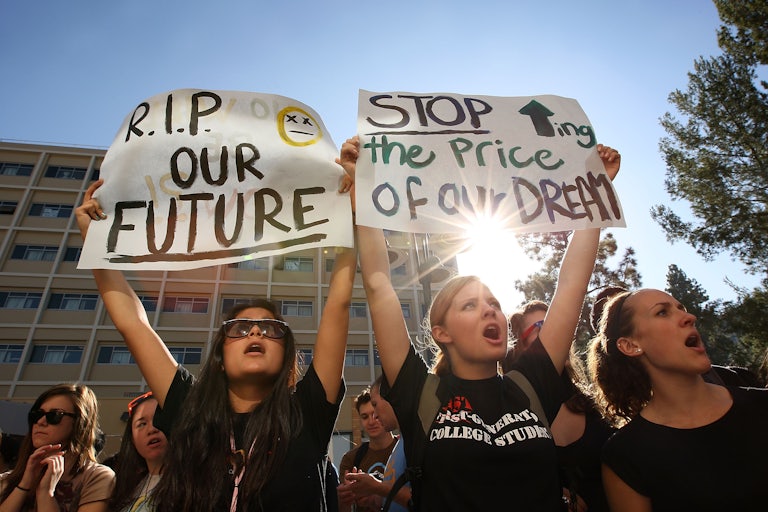 Photo by David McNew/Getty Images
The Supreme Court voted to overturn President Joe Biden's student debt relief plan 6–3.
The pause on student loan payments was already set to expire at the end of August, and Biden's ability to extend the pause was foreclosed through debt ceiling negotiations. But the court's decision on Friday hurts about 43 million people who were expected to see some relief from the burden of America's crippling student debt regime.

On Thursday, the court ruled that affirmative action was a discriminatory mechanism. A day later, it ruled that people can openly discriminate against gay people, or anyone they see as "illegitimate" (in a case that didn't even involve any gay people). And now the court has ruled against debt forgiveness, in a case based on harm toward a loan servicer that actually didn't want to be involved in the case at all.
Justice Elena Kagan captured the madness in her dissent. "Wielding its judicially manufactured heightened-specificity requirement, the Court … does not let the political system, with its mechanisms of accountability, operate as normal. It makes itself the decisionmaker on, of all things, federal student-loan policy. And then, perchance, it wonders why it has only compounded the 'sharp debates' in the country?"

Estimates show that 87 percent of the relief from Biden's plan was to go to individuals earning less than $75,000 a year, while none would have gone to those earning more than $125,000. Ninety-five percent of the total benefits were set for households making less than $150,000.

It remains unclear what the administration now plans to do to remain committed to its promises to these millions of people, but there still are options. One potential pathway proposed by the People's Policy Project involves using the Higher Education Act to instate already authorized income-driven repayment programs that could potentially have debtors save even more than in Biden's original plan.

More on the Supreme Court