Rupert Murdoch's News Corp Sees Profits Plummet by Colossal 75 Percent
The conservative media empire is falling apart.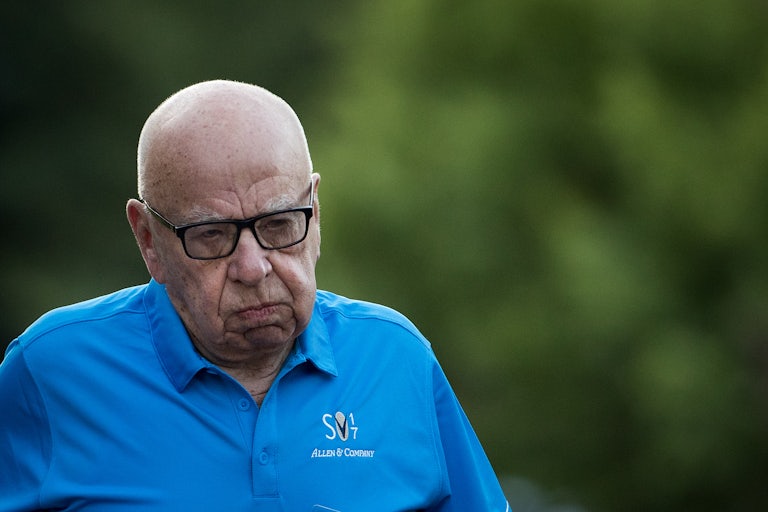 Drew Angerer/Getty Images
Rupert Murdoch's media empire is slowly but surely disintegrating, as his News Corporation reported more than a 75 percent drop in profit.
News Corp on Thursday recorded just $187 million in net profit for the 2023 financial year, down from $760 million the previous year. The company has arms in the United States, the United Kingdom, and Australia, including the Wall Street Journal publisher Dow Jones & Company, The Sun, and News Corp Australia.
The plunge in profit was primarily due to lower print and digital advertising at News Corp Australia, as well as low print advertising in the U.K. News Corp said it was confident it could use AI going forward to create new content while also reducing overall costs.
News Corp is separate from Murdoch's other notorious conglomerate Fox Corp, the parent company of Fox News. Murdoch split the companies in 2013. He briefly considered re-merging them in late 2022, but he abandoned the plan at the start of the following year because, according to The Economist, "some News Corp investors [were] unhappy at the prospect of being lumped together with Fox News, which they consider a toxic brand."

Unlike the rest of News Corp, Fox profits seem to be surpassing expectations post–Tucker Carlson. But both of Murdoch's news corporations, though, have been embroiled in costly legal battles. Prince Harry is suing News Corp's British arm for multiple unlawful acts allegedly committed over several decades, including hacking his phone. And in the U.S., Fox Corp is fending off multiple lawsuits for spreading falsehoods about the 2020 election and defamation. Earlier this year, the company reported a $54 million loss thanks to the costly Dominion settlement.