Republicans Are Losing Their Mind Over the Senate's New Dress Code
Republicans are so pissed that Senator John Fetterman can keep wearing his shorts and hoodies. Meanwhile, the government hurtles toward shutdown.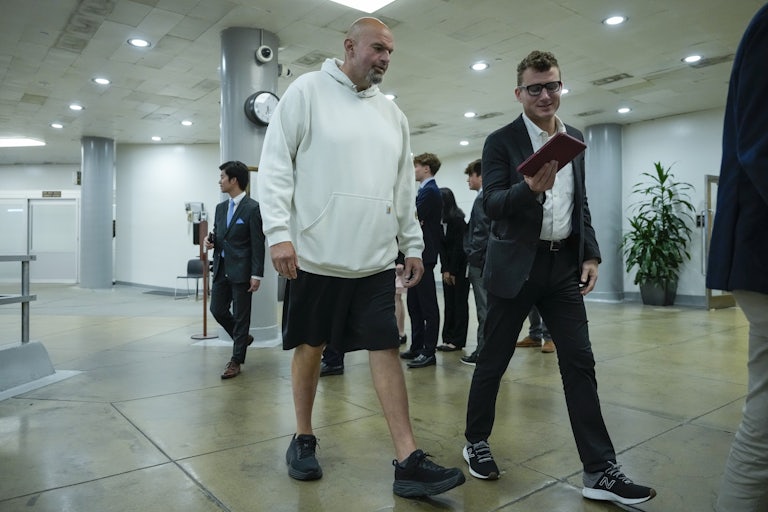 Drew Angerer/Getty Images
Senator John Fetterman (left) with an aide
This weekend, Senator Chuck Schumer announced that the Senate will no longer enforce a formal dress code—and Republicans have been losing their mind ever since.
In particular, Republicans are mad that Senator John Fetterman's casual fashion sense is officially acceptable. The Pennsylvania senator has become known for forgoing the suit and tie worn by his colleagues and wearing shorts and sweatshirts instead.

On Sunday, Representative Marjorie Taylor Greene took to X, formerly known as Twitter, to lambaste the change in the Senate's dress code as a "disgraceful" attempt to "appease Fetterman."

"Dress code is one of society's standards that set etiquette and respect for our institutions," Greene wrote. "Stop lowering the bar!"
In response, Fetterman reminded everyone that it was actually Greene who'd lowered the bar.

"Thankfully, the nation's lower chamber lives by a higher code of conduct: displaying ding-a-ling-pics in a public hearing," he wrote in a post on X, referring to MTG's decision to hold up poster-size prints of Hunter Biden's nude photos during a House Oversight Committee hearing this summer.
But Greene isn't the only Republican making a stink.

On Monday morning, former Trump political adviser Stephen Miller took a break from his new career of filing lawsuits against Pop-Tarts and M&Ms to also criticize the new dress code.
Fox News has similarly been quick to pick up the supposed controversy. In an interview on Fox Business on Sunday, Oklahoma Senator Markwayne Mullin was asked about the change in Senate dress code and called Fetterman's outfits "completely disrespectful."
"There's a side of me that's super excited about it because I hate wearing a tie, and I'd rather be in blue jeans and a pair of boots and a white T-shirt," Mullin admitted in surprising detail. "But the fact is, that you do dress for the job. And we need to be respectful of the position we hold," he added.

When asked if the change in dress code was Schumer's attempt to appease Fetterman, Mullin replied, "Of course it is. Hundred percent."
Last week, Representative Matt Gaetz also freaked out about Fetterman's clothes. In an interview with Steve Bannon, Gaetz remarked, "That is the best-dressed we have ever seen John Fetterman."
"His shirt had both buttons, and the entire pant was not elastic. There were elastic features, but it was not exclusively elastic," Gaetz said.

Fetterman had this to say to Gaetz: "Instead of crying about how I dress, how about you get your shit together and do your job, bud?"