Twitter Is Now Worth a Third What Elon Musk Paid for It
This is what happens when you keep inviting Nazis to your site.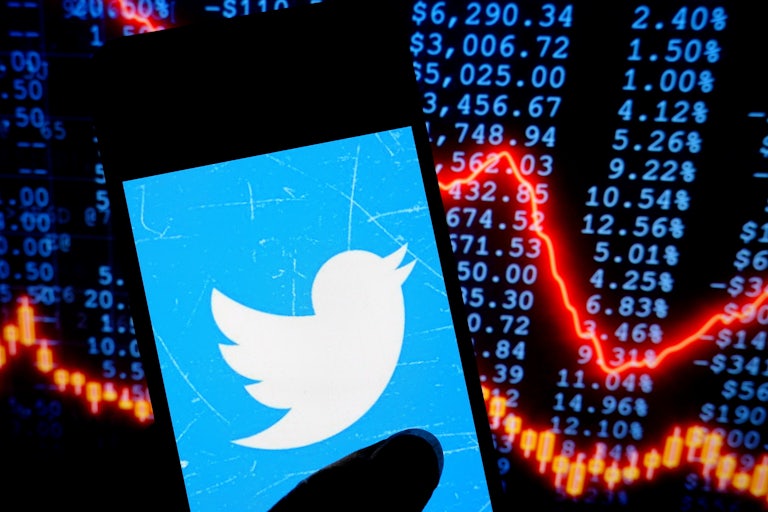 Avishek Das/SOPA Images/LightRocket/Getty Images
Twitter's value has tanked since Elon Musk took over six months ago, with the company now worth just one-third what he originally paid for it.
Musk paid $44 billion for the social media platform in October, an amount he raised with the help of 19 outside investors, which included Fidelity Investors. The company released its monthly disclosure of portfolio valuations on Tuesday, which revealed just how far Twitter has fallen.
Twitter, under its new name X Holdings Corp., was worth just $6.5 billion at the end of April, a 66 percent drop from when Musk first took the reins.* This is the second time that Fidelity recorded a decrease in Twitter's value. Just a month after Musk bought it, Twitter's value dropped 56 percent, according to Fidelity's valuations report.
Musk insists there's no issue at Twitter, but he knows better. During an interview with the BBC in April, Musk claimed Twitter was close to being "cash-flow positive." But just a month before, he reportedly told employees that the company was worth only $20 billion, less than half what he paid for it.
Since taking over, Musk has gone to great lengths to make Twitter profitable. Those methods include firing about three-quarters of all employees, accepting money from the Taliban, not paying rent, and begging people to sign up for the Twitter Blue subscription plan. That last strategy is going super well: Far fewer than 1 percent of the platform's more than 500 million monthly users subscribe to Twitter Blue.
Musk also gutted content moderation guidelines and let Nazis back online, which has allowed hate speech to flourish on the platform, including on his own profile. These moves sent advertisers fleeing in droves, and any efforts to win them back have been unsuccessful. Musk even self-sabotaged a bit by allowing erstwhile Fox News host Tucker Carlson to launch his new show on Twitter.
So all in all, the tanking market value sounds like just another day at Twitter under Musk.
* This piece originally misstated the valuation of Twitter at the end of April.