Even Kevin McCarthy Knows He Doesn't Have the Votes for House Speaker
McCarthy and his allies are scrambling to get enough votes to confirm him as speaker of the House, reportedly even threatening that Republicans who vote against him will lose committee assignments.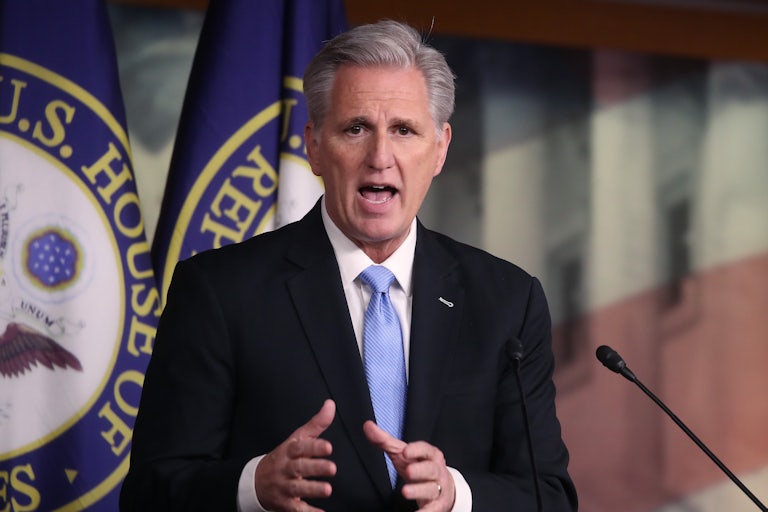 Mark Wilson/Getty Images
The House of Representatives will choose its new speaker Tuesday, and it currently seems that Kevin McCarthy does not have enough votes to win the gavel.
The California Republican has made no secret of his desire to be speaker of the House. But even though he is backed by former President Donald Trump and far-right Representative Marjorie Taylor Greene, things don't look good for him.
McCarthy appeared confident he would win, laughing off the idea that his number two, Majority Whip Steve Scalise, would be selected speaker instead.

But McCarthy and his allies are scrambling to amass all the votes necessary. In a meeting Tuesday morning, Alabama Representative Mike Rogers reportedly threatened to ban anyone who votes against McCarthy from sitting on a committee.
Republicans hold only nine more seats in the House, and McCarthy needs a majority—218 votes—in order to be elected speaker. Five Republicans, the self-dubbed "Never Kevin Five," have already vowed not to support him. One of the five, Representative Andy Biggs, is challenging McCarthy for speakership. It's highly unlikely he will win, but he could draw more votes away from McCarthy.
Democrats, who will put forward Hakeem Jeffries, will definitely vote against McCarthy. If neither McCarthy nor Jeffries wins an outright majority, it will trigger a so-called "floor fight": repeated rounds of votes until someone wins. It would be the first floor fight in 100 years. It's unclear if the chamber will recess between votes so representatives can attempt to make deals.
Congress cannot move forward until a speaker is elected. The House cannot approve a rules package for the new session or committee leadership. Politico also reported that if the speakership isn't filled by January 13, committee staffers would have to go without pay.
McCarthy could still pull it off: Only named votes, meaning only ballots that have a name written on them, are counted. If any representatives choose to abstain or only vote "present," then their votes are no longer included in the overall total, which lowers the final amount needed to win. However, any ballots that choose a write-in candidate—such as Biggs—would count toward the total.
Nancy Pelosi won with only 216 votes in 2021, and her predecessor, John Boehner, also won with 216 in 2015.
If he does win, McCarthy has already promised to unleash a raft of unproductive and even harmful measures, such as an investigation into Hunter Biden, anti-LGBTQ policy, and a cut to aid for Ukraine.