Iowa Senate Rolls Back Child Labor Law in the Dead of Night
While most of their constituents were asleep, Iowa Republicans voted to make it easier to hire minors to work in places like meat freezers.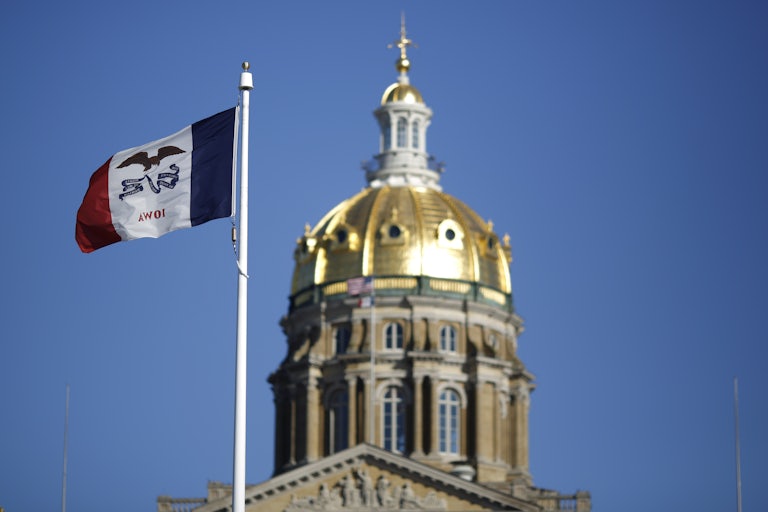 Luke Sharrett/Bloomberg/Getty Images
Iowa state Capitol building. An Iowa state flag is flying in front.
Before the sun had even risen on Tuesday, the Iowa Senate passed a bill to loosen child labor laws, allowing the employment of kids in previously restricted fields like roofing, demolition, and working in meat freezers.
Republicans pushed through Senate File 542 just before 5 a.m. Tuesday morning after a marathon session, with only two Republicans voting against the bill. The bill now moves to the House, and Republicans have trifecta control in Iowa.
Pushed by lobbyists including the Iowa Restaurant Association and Iowa Grocery Industry Association, the bill would allow 14- to 17-year-olds to work in some fields that violate federal labor law, such as freezers or meat coolers (settings notorious for child and migrant labor violations).

The bill also allows 15-year-olds to do loading work for items up to 30 pounds. A waiver from the labor commissioner can increase that number to 50 pounds, and it can also enable them to do assembly-line work.
The bill also extends the amount of time companies can have kids under 16 work—until 9 p.m. during the school year and until 11:00 p.m. during the summer. It moreover allows the employment of minors for up to six hours a day during a school week, two hours higher than currently allowed. Employers could have kids above the age of 16 work the same number of hours as adults.
Senators spent hours debating the bill, and the hours stretched on thanks to Republican stalling. The bill's floor manager, Senator Adrian Dickey, as well as Senate Majority Leader Jack Whitver refused to answer questions from Democrat Bill Dotzler during debate. After further closed-door sessions and several failed Democratic attempts to amend the bill, the Republican-led Senate finally voted to pass the bill in the wee hours of the morning.
Republicans have framed the bill as both a benefit to children and a means to help fill in a supposed labor shortage.
On the former, Republicans blocked a Democratic amendment on additional workers' compensation for teenagers who get injured while working. And on the latter, opponents have argued that the labor shortage didn't just happen out of nowhere.
"The biggest reason we have a labor shortage is because our wages are too low," state Senator Clair Celsi told Iowa Starting Line. "Most of the states touching Iowa all have higher wages." Thirty states have a minimum wage higher than Iowa's $7.25 per hour.
Bureau of Labor Statistics figures show that unemployment rates per job opening in Iowa have in fact reached, and at some points dipped even lower than, pre-Covid rates. The claims of a labor shortage seem more about preventing labor from demanding better benefits and conditions; such a goal can be all the more easily accomplished when employing minors who may not be primed to join a union or demand more rights.
The bill seeks to create more legal pathways to justify the preexisting issue of corporate child labor exploitation already rampant in this country.
The Senate voted on the child labor law just days after Iowa Representative Sami Scheetz encountered what appeared to be a minor working at a construction site; Scheetz allegedly asked the worker his age, and the site supervisor told the worker in Spanish to say he was 18.