Louisiana Republicans Want to Ban Colleges From Teaching About Racism
Critical race theory fearmongering is working its way into every level of education.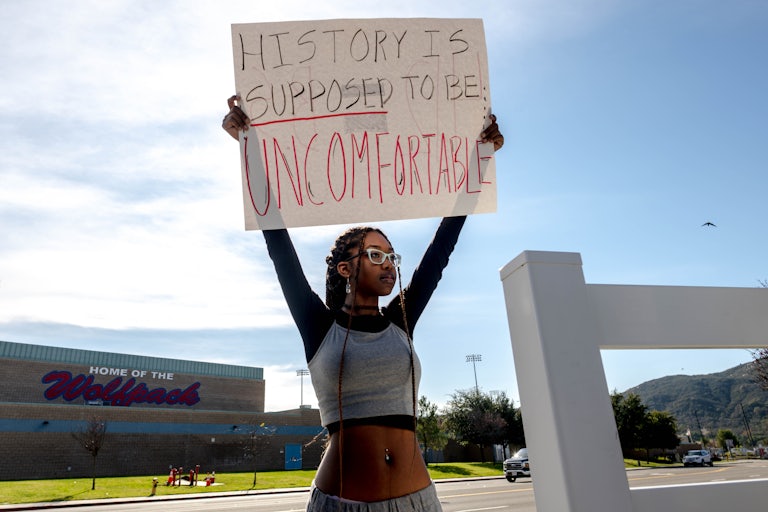 Watchara Phomicinda/Getty Images
A student in California demonstrates against a critical race theory ban. Republicans have advanced such measures across the country, and have targeted colleges and universities as well.
The Louisiana state Republican Party thinks that diversity, equity, and inclusion, or DEI, programs on college campuses are too "divisive" and should be banned.
The Republican State Central Committee, or RSCC, the state GOP's governing body, unanimously passed a resolution Saturday asking the state legislature to ban DEI offices at all Louisiana colleges and universities, both public and private.

The resolution refers to DEI offices as "bureaucracies" that "operate as divisive ideological commissariats" and are "a threat to academic freedom and academic integrity." It calls for the state legislature to pass bills that will remove DEI departments from all higher education institutions in Louisiana.
The resolution passed the majority-white body by a voice vote "with no discernible dissent," according to NOLA.com. The RSCC membership, which includes multiple state senators and representatives, voted on the measure during the state party's quarterly meeting in Baton Rouge.

The move comes amid a growing push by Republicans to ban "woke ideology" (a.k.a. freedom of thought) in schools. The GOP has spent the past few years working to transform critical race theory, or CRT, into a political boogeyman. CRT is a framework for understanding the legal underpinnings of systemic racism in U.S. society and politics; Republicans have framed an advanced academic field of study as something that's being used in elementary schools to indoctrinate young children. Slowly but surely, the same rhetoric is being applied to education at all levels.

One of the prime offenders of late has been Florida Governor Ron DeSantis, who has vowed to defund all DEI programs at state universities. He also banned high schools from teaching an A.P. African American studies class, deeming it "woke indoctrination," and pressured the College Board to gut the course syllabus.

In Texas, the state Senate approved a bill last week that would bar college and university professors from "compelling" students to adopt certain political beliefs. The bill's sponsor insisted his measure would not censor any topics of discussion, but critics warn the legislation is too vaguely worded and could actually curb difficult, nuanced conversations about issues such as race and gender.