Pathetic: Vivek Ramaswamy Tried to Tweet a CNN Town Hall Into Existence
The Republican presidential candidate seems to think he can strong-arm CNN into this.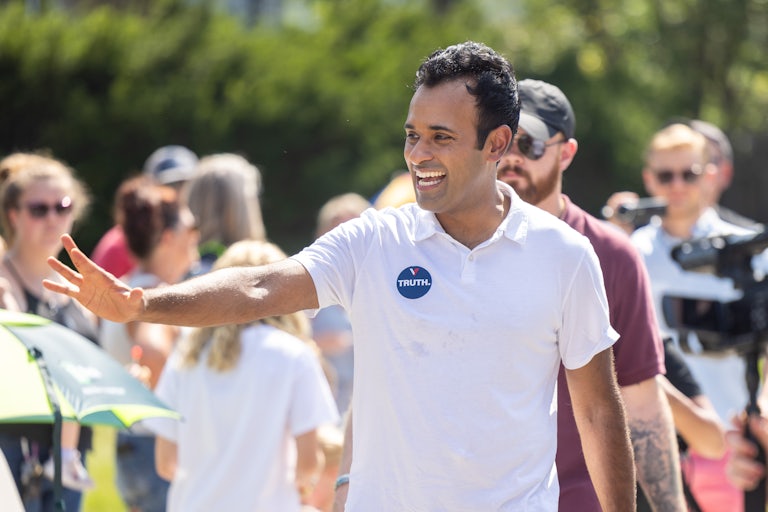 Scott Eisen/Getty Images
Republican presidential candidate Vivek Ramaswamy desperately tried to tweet a CNN town hall into existence.

Ramaswamy announced in a post on X, formerly known as Twitter, last week that he would be appearing in a CNN town hall in New York on September 12. But sources familiar with the matter told Semafor that the event was never actually confirmed.

One source said that Ramaswamy wrote the tweet after CNN told his campaign that the event would not take place on that day, and that it was an attempt to "will it into existence." Apparently Ramaswamy's team was so sure that the town hall would happen that some of them bought tickets to the U.S. Open because they planned to be in New York that week.
In a statement, a CNN spokesperson said that CNN does not currently have an event scheduled with Ramaswamy. "The information in Mr. Ramaswamy's post is incorrect and there is not a CNN Town Hall currently planned for September 12th," the spokesperson told Semafor.
When shown the statement from CNN, Tricia McLaughlin, a spokesperson for Ramaswamy's campaign, said that they had confirmed the September 12 slot and even selected a moderator.

Lying on Twitter is just another page Ramaswamy seems to be taking out of the Trump playbook, but too bad for him he doesn't have the power of manifestation to back it up.