James O'Keefe Used Money From Project Veritas to Try to D.J. at Coachella
A new report says the far-right activist used his shady nonprofit's money on a desperate attempt to flex.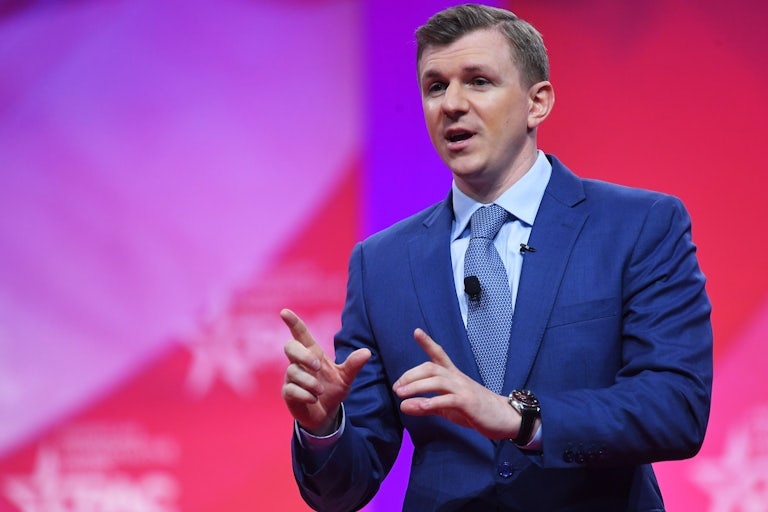 MANDEL NGAN/AFP/Getty Images
The disgraced founder of Project Veritas, the right-wing nonprofit known for undercover "stings," used the organization's funds on a desperate attempt to D.J. at Coachella, a Washington Post report published Wednesday found.
James O'Keefe founded Project Veritas in 2010, rising to far-right prominence for his secretly recorded videos. O'Keefe claimed he was trying to expose wrongdoing by journalists, labor unions, and liberal figures and organizations, but it was later proven the videos were edited to leave out crucial context. O'Keefe was forced out of the nonprofit in February under a cloud of allegations of workplace misconduct and mismanaged funds.
Following O'Keefe's departure, the Project Veritas board hired an outside law firm to conduct an internal audit. The nonprofit raised millions of dollars from conservative donors but recently was forced to lay off more than half of its staff and has since been operating on a skeleton crew. The results of the audit were shared with The Washington Post.
The audit found that O'Keefe had used hundreds of thousands of organization dollars to pay for personal expenses. This included $2,500 for a set of D.J. equipment, because O'Keefe wanted to perform at Coachella, the Post reported, citing two anonymous former employees. O'Keefe was apparently upset that his staff couldn't book him a performance slot at the music festival, which has featured major acts including Beyoncé, Blackpink, and Billie Eilish.
O'Keefe also allegedly pressured his staff to set up donor meetings in California so he could use the organization's funds to visit his girlfriend, who has been identified as California real estate agent and Selling the OC cast member Alexandra Rose. O'Keefe would write his romantic getaways off as work trips but only meet with minor donors. He also allegedly demanded his employees buy Rose "many expensive bottles of tequila," according to the Post.
Other expenses included $600 for bottled water during one trip to San Antonio and $20,500 to move some staff operations to Virginia from Mamaroneck, New York, to coincide with O'Keefe's stint as the lead in a September 2021 production of the musical Oklahoma! O'Keefe left his staff to deal with Hurricane Ida flooding their Mamaroneck office while he evacuated early to make one of the performances.

In August 2022, O'Keefe spent $12,000 for a helicopter flight to Southwest Harbor, Maine, from New York, and then $1,400 for a chauffeured black car from Portland to Southwest Harbor when bad weather forced the helicopter to land early. He actually spent $208,980 on luxury black-car travel over the course of two years.