What Just Happened to Mitch McConnell in This Press Conference (Again)?
A new video shows the Republican senator, 81 years old, frozen and unable to respond to a reporter's question.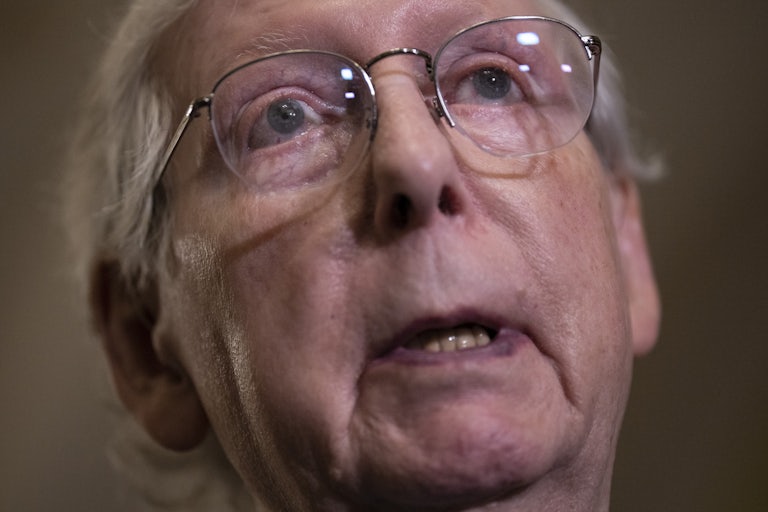 Drew Angerer/Getty Images
On Wednesday, Republican Senator Mitch McConnell froze midway through a press conference, requiring aides to escort him from the scene after he was seemingly unable to respond.
The incident happened after a reporter asked the 81-year-old Senate minority leader about his plans for reelection.
McConnell stared off into space, before an aide asked him, "Did you hear the question, senator? Running for reelection in 2026?"
The aide then escorted McConnell away from the lectern.
A McConnell spokesman later said the senator "felt momentarily lightheaded."
The incident is a near copycat of what happened last month, when McConnell appeared to simply have shut down in the middle of a press conference at the Capitol. In that instance, McConnell trailed off midsentence, and as several of his colleagues asked if he was all right, he turned away and stepped to the side.
McConnell has made no recent indication that he plans on retiring, even as concerns about his health continue to mount. After last month's incident, The New Republic's Pablo Manriquez asked the senator whether he had someone in mind to replace him. McConnell glared at him, then smiled and walked away. McConnell did not explain what happened to him during the press conference.
This is the second-oldest U.S. Senate in history—and McConnell's health has been an area of specific concern.

In March, McConnell tripped and fell, suffering a concussion and cracked rib as a result; these injuries forced him to forgo his duties for nearly six weeks before he was finally able to return to Congress. His injury is a common one among older people, as an estimated 800,000 seniors per year are hospitalized for injuries from falling. After last month's incident, reporters revealed that McConnell has fallen multiple times this year and has taken to using a wheelchair in airports to avoid future accidents.
Even McConnell's Republican colleagues are worried, with some suggesting that he should step down. One senator anonymously told Politico that "the next leadership election is well underway." Another told NBC that McConnell is "just not processing."
"I'd hate to see it forced on him," the senator said, referring to McConnell's resignation. "You can do these things with dignity, or it becomes less dignified. And I hope he does it in a dignified way—for his own legacy and reputation."