Donald Trump Spent the Republican Debate Musing About Civil War
Asked about civil war in an interview with Tucker Carlson, Trump began to fondly recall the January 6 insurrection.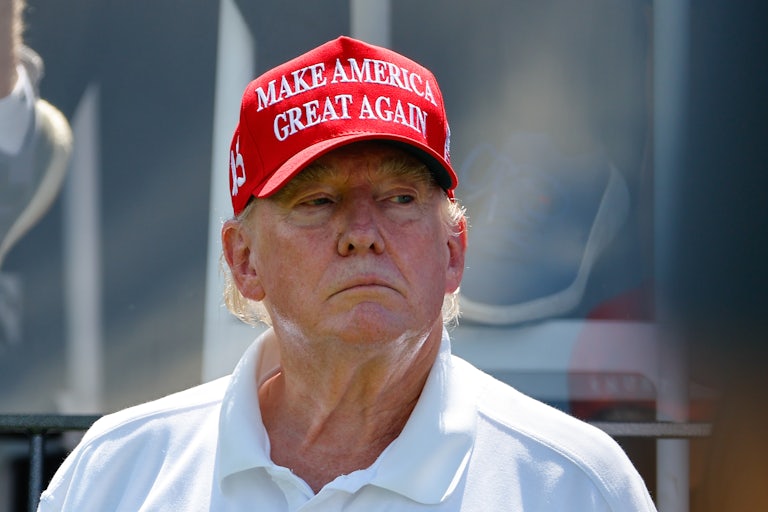 Rich Graessle/Icon Sportswire/Getty Images
Rather than debate his fellow Republican presidential candidates, Donald Trump appeared to condone civil war during an interview with Tucker Carlson.
Trump did not attend the first Republican presidential debate on Wednesday night. Instead, he released a pretaped interview with Carlson designed to steal the spotlight from the other candidates (and Fox News). At one point, Carlson asked Trump if he believed the United States is headed for "civil war."
"There's tremendous passion, and there's tremendous love," Trump said, before launching into praise for the people who rioted on January 6. He also lied that he had told the mob to go "peacefully and patriotically."
"People in that crowd said it was the most beautiful day they've ever experienced. There was love in that crowd, there was love and unity. I have never seen such spirit, and such passion, and such love. And I've also never seen simultaneously and from the same people such hatred of what they've done to our country."
Trump has now tacitly condoned civil war by portraying his supporters' feelings as "passion" instead of "sedition." This isn't the first time that Trump appears to have encouraged violence among his followers. He notoriously told the Proud Boys to "stand back and stand by" during the September 2020 presidential debate. And many of the people who participated in the January 6 insurrection said they did so because Trump had issued a call to arms.