Teacher Who Criticized "Rainbowland" Song Ban Is Being Fired
Cancel Culture? The Wisconsin teacher is being fired for complaining about the district banning kids from singing the Dolly Parton and Miley Cyrus song.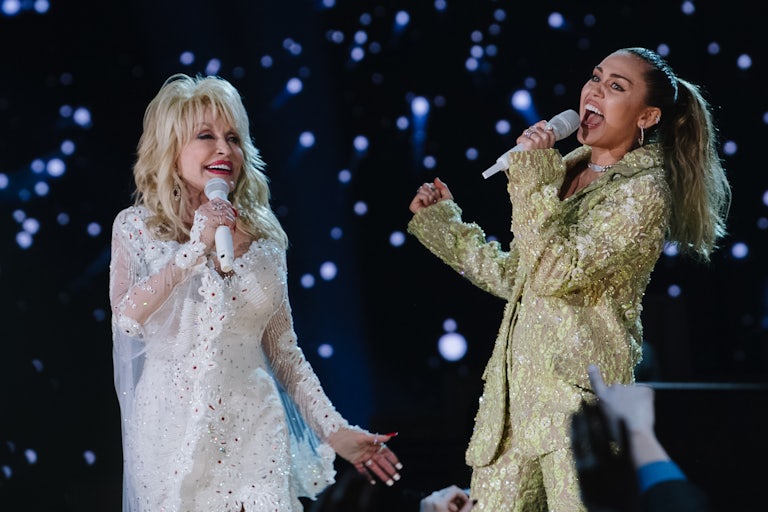 Emma McIntyre/Getty Images for The Recording Academy
A Wisconsin first-grade teacher is being fired for speaking out against her school district for banning her kids from singing a song about rainbows and togetherness.
On Wednesday, the Waukesha School District voted 9-0 to fire Heyer Elementary teacher Melissa Tempel, who was first put on leave in April and has been in limbo ever since.
The drama first began in March, after Tempel's students were barred from singing "Rainbowland"—a Miley Cyrus and Dolly Parton hit collaboration about hope, positivity, and love—at their first-grade concert. Administrators cited a district-wide policy on items "that may be considered political, controversial, or divisive," as grounds to ban the song from being sung at the concert.
The administrators applied the policy to a song whose lyrics go like this:

All the hurt and the hate going on here (It needs to stop here)

We are rainbows, me and you

Every color, every hue

Let's shine through (through)

Together, we can

Start livin' in a rainbowland
Tempel tweeted about the ban, which brought massive public attention to the Waukesha School District. Shortly thereafter, Tempel was placed on administrative leave, with very little information made available to the public. Administrators have cited her initial public complaints about the ban as against school policy, which apparently prevents teachers from saying anything about administrators mysteriously censoring kids from singing about love and hope.
"I am deeply concerned that Ms. Tempel was removed from her classroom for standing up for them and what she knows is right," a parent from Tempel's class said at the time.
The issue all stems from Waukesha's Board Policy 2240, "Controversial Issues in the Classroom," which set guidelines for when the district would "permit" a so-called "controversial issue" to be introduced in the classroom. Along with the innocent Cyrus and Parton song, the policy has also been applied to bar students, teachers, and even classroom walls from donning rainbow designs, because of their association with the LGBTQ community. The over-policing has stirred up concern among parents and teachers alike who have found the policy to be repressive.
Officials may have set off claims for a First Amendment case. Tempel had previously said she would pursue such a claim against the district, after Superintendent Dr. Jim Sebert first recommended her termination back in May.
"I cannot allow others to be intimidated into silence," she said at the time. "These are matters of public concern that the Waukesha Community has a right to know about and I stand by my decision to share the impact of Policy 2240 with the public. I will rest easy every night knowing that I did what was right for children."