Sarah Palin Warns Civil War "Is Going to Happen" After Trump Arrest
This kind of rhetoric is beyond dangerous in a time of rising political violence.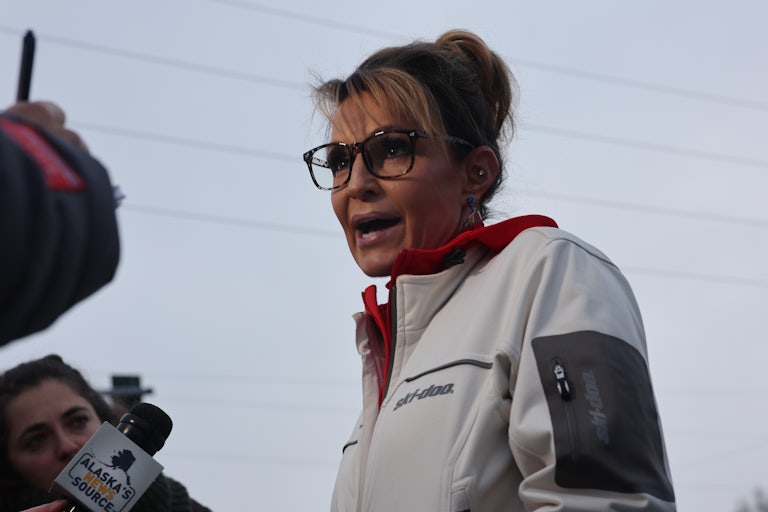 Spencer Platt/Getty Images
Sarah Palin has called for people to "rise up" and potentially start a civil war over Donald Trump's arrest in Georgia.
Trump surrendered to authorities in the Peach State Thursday evening, marking the fourth time he has been indicted and arrested this year. He is charged with felony racketeering for trying to overthrow the state's 2020 presidential election results.
Palin expressed her outraged (and outrageous) opinion during an interview with Newsmax Thursday night.
"Those who are conducting this travesty and creating this two-tiered system of justice, and I want to ask them, 'What the heck? Do you want us to be in civil war?' Because that's what's going to happen. We're not going to keep putting up with this," Palin told host Eric Bolling.
"And Eric, I like that you suggested that we need to get angry. We do need to rise up and take our country back."
Palin is now at least the second prominent right-wing figure to casually throw the concept of civil war around this week. Trump opted to release an interview with Tucker Carlson on Wednesday instead of participating in the first Republican presidential debate. At one point, Carlson asked Trump if he believed the United States is headed for "civil war."
Trump began reminiscing about the January 6 riot, saying there was "tremendous passion, and … tremendous love" in the crowd, as well as "such hatred of what they've done to our country."
Republicans' tacit condoning of violent attacks is dangerous. Political violence has been steadily increasing in recent years, and it can be directly traced back to this kind of rhetoric.