Are We Going to Let Prisoner P01135809 Destroy Our 250-Year-Old Democracy?
It's frightening to imagine what Donald Trump might do next.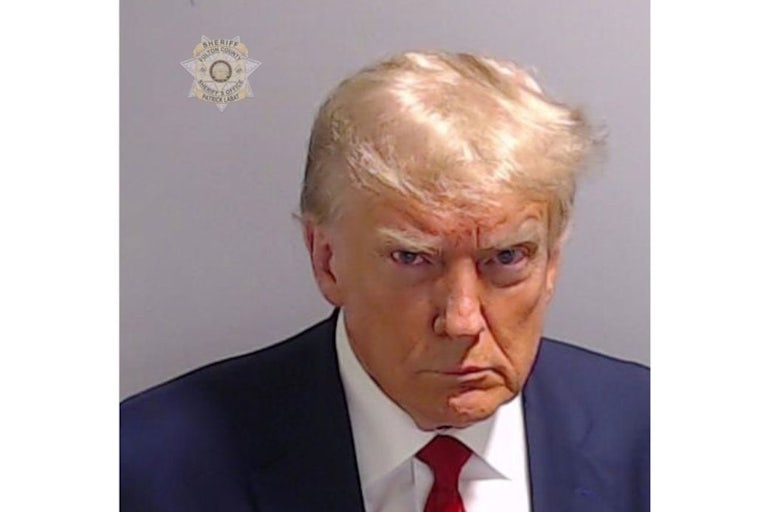 Fulton County Sheriff's Office
It's not just unprecedented that we now have an ex-president with a mug shot. It's insanely, amazingly, staggeringly, chillingly unprecedented. It makes me think about the past—about how we got to this insane, amazing, staggering, chilling point. And it makes me think about the future—about what grim precedent Trump will drag us into next.

We got here because Donald Trump, now also known as Prisoner P01135809, has never had any regard for laws of any kind. We've known this for decades. When I was a young reporter in New York, and Trump was not yet a wannabe dictator, and the working-class men of the heartland registered him in their minds (if at all) as a swanky Manhattan rich guy who had nothing to do with their lives, Trump's habits and attitudes were well known in New York. Sometimes, people went at him, but no one ever got him. And often, the people with the power to do so didn't even go at him.
Robert Morgenthau, the Manhattan district attorney for most of the years Trump was operating in New York, left his office in 2009 with a sterling reputation. And he largely deserved it. But the record does tell us, as Morgenthau's biographer Andrew Meier wrote in The New York Times earlier this year, that Trump befriended Morgenthau, and the D.A. reciprocated. Trump donated to Morgenthau's campaigns and his pet charities. Morgenthau accepted an invitation to stay in Mar-a-Lago.
And yet, late in life—Morgenthau lived to be 100, and three years into Trump's presidency—he seemed to have some regret. Meier visited him not long before his July 2019 death and asked him what his greatest fear was, to which Morgenthau answered: "Trump."
Trump was sued and deposed over and over and over, but he always had the money and the legal architecture to wiggle out. Like it or not, there's a complex calculus involving the extent to which the law will pursue a rich and famous man who builds glitzy buildings and makes donations to the Police Athletic League. Prosecutors, too, have budgets, and they think twice before committing them to the pursuit of people who have the power to fend them off for years.
But once a person enters public life, the calculus changes. Then, the money and power and PAL checks don't matter anymore. All that can no longer insulate you. Presidents take an oath, and they are subject to federal and state laws. Period.
And so Trump's great, improbable triumph—his ascension to the presidency—was also his fatal mistake: He finally put himself in a position where the law, however slowly, could catch up with him. He didn't understand or accept this, of course, because he always thought of himself as above the law. He is probably shocked to find that there are potential consequences to saying to a state official that the official just needs to find him 11,780 votes. There'd never been consequences before for anything.
So that, in sum, is how we got here. It's a simple and very American story of money, influence, and power. And while I wouldn't say it could only happen in New York, the city was easily the most likely place for it to happen, because New York—especially in the 1980s and 1990s, when money, influence, and power really began to swallow the whole place, its possessors lionized in the newly celebrity-obsessed media—was far more susceptible to a Trump than any other American city.
As for where we're headed: Well, quickly, let's review. The precedents Trump has set: winning the presidency with help (wittingly or not, we don't know, at least from a legal perspective) of Russia; believing Russia's dictator over his own intelligence agencies; saying, as president, that there were "good people" among the white supremacists who marched with torches in a Southern city; getting impeached twice; refusing to accept election results; losing 60-odd court cases toward the end of overturning that result; and, finally, getting indicted four times.
What's next? The trials, of course. But what else? Miles Taylor, the former (and repentant) Trump official who is the author of Blowback, told Nicolle Wallace on her MSNBC show Thursday: "All of these things lend themselves to a more volatile and combustible situation. We are about to find out in the next couple of weeks what law enforcement in this country actually thinks about it. Usually in September, we have the heads of the intelligence agencies and the FBI come up and testify before Congress. I predict they will come up and say that the political violence factors and trajectory in this country are worse than it was before, and they are worried about 2024. I think you will hear from the FBI, as well as the Department of Homeland Security, probably around the beginning of September."
I don't want to make irresponsible predictions. But am I worried about violence? Should we all be worried about violence? Tucker Carlson asked Trump this question Wednesday. Presidents, of course, usually urge people against such a course when asked such a question. Trump—and here's another new precedent—did not: "There's a level of passion that I've never seen, [and] there's a level of hatred that I've never seen, and that's probably a bad combination."
How do you think they heard that in Proud Boys–Oath Keepers–MAGA land?
The next election is about many things: abortion rights, civil rights, the fate of the planet, and more. But it's really about one thing: whether one man can corrupt and destroy a 250-year-old democracy. That we're this unsure of the answer is terrifying.
This article first appeared in Fighting Words, a weekly TNR newsletter authored by editor Michael Tomasky. Sign up here.