Republican Rep. Nearly Blames Hurricanes on Climate Change on Fox News
Representative Barry Loudermilk came so, so close to accurately describing Hurricane Idalia.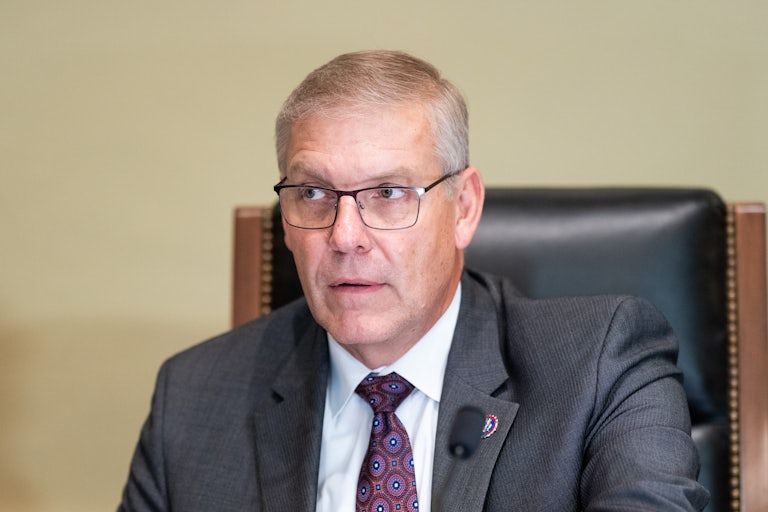 Bill Clark/CQ-Roll Call, Inc/Getty Images
Representative Barry Loudermilk came so close to blaming climate change for hurricanes on Fox News.
The Georgia Republican nearly made the connection on Fox News Monday night, while discussing Hurricane Idalia, a Category 1 hurricane that is rapidly approaching the Florida coast; experts say Idalia could strengthen into a Category 3 storm before it is expected to make landfall Wednesday. Loudermilk compared the storm to Hurricane Katrina, which made landfall on the Gulf Coast 17 years ago almost to the day.

"I think we're on the anniversary of Katrina, today, one of the worst storms in history," Loudermilk said. "If it was climate change, if it's continuing to get worse, then would you not see more and more of this storm being worse and worse?"
Well put, Loudermilk, even if it was a total accident.

Loudermilk is, of course, a climate change denier. In 2014, Loudermilk told The Atlanta Journal Constitution, "I believe that climate change is a function of nature; the climate has been changing as long as the Earth has existed." He supported President Trump's decision to withdraw from the Paris Climate Agreement in 2017.
But his words on Fox news are true: These storms are in fact getting worse thanks to climate change.
Hurricanes strengthen over warm ocean waters—storms need a temperature of around 82 degrees to start forming—while warmer air holds more moisture and can also help intensify storms. The National Oceanic and Atmospheric Administration said Monday that parts of the ocean off Florida's coast are more than four degrees hotter than the usual average for August; one measurement taken off the Florida Keys showed that the water was a shocking 91.2 degrees. Following one of the hottest summers on record, the "wildly hot" waters in the Gulf of Mexico are expected to rapidly intensify Hurricane Idalia. The Environmental Protection Agency has repeatedly affirmed that rising sea surface temperatures caused by climate change have led to an increase in tropical cyclone intensity, duration, and frequency.