Kevin McCarthy Threatens to Impeach Biden Over … His Bank Statements?!
Republicans' impeachment quest is getting more absurd by the day.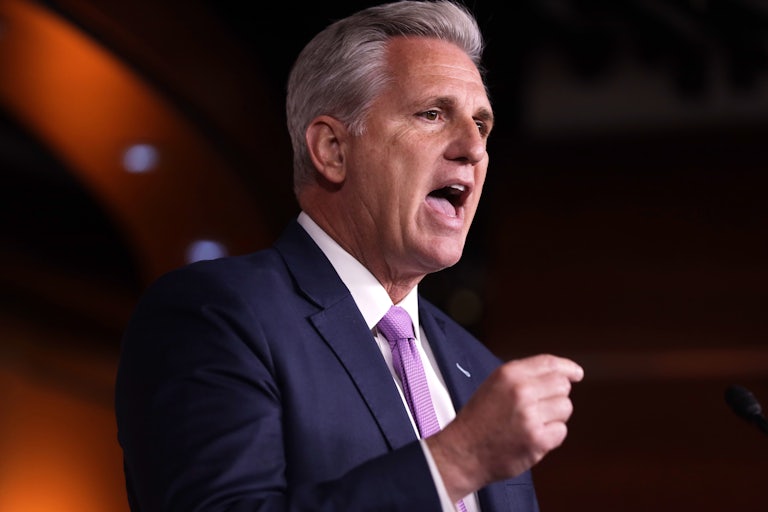 Alex Wong/Getty Images
House Speaker Kevin McCarthy says that Republicans will launch an impeachment inquiry into Joe Biden in September unless the president hands over his personal financial records.
Republicans have insisted for months that Biden is guilty of corruption and influence peddling overseas, despite producing no actual evidence. McCarthy has previously suggested opening an impeachment inquiry into Biden so that Republicans can access more information and witnesses, which will supposedly lead them to the truth. But he made his most bald-faced threat yet on Tuesday.
McCarthy told Fox News that Republicans want the Biden family's "bank statements, the credit card statements, and others."
"Show us where the money went. Show us, were you taking money from outside sources?" he said. "If they withhold the documents and fight like they have now to not provide to the American public what they deserve to know, we will move forward with impeachment inquiry when we come back into session."
The House Oversight Committee, which is leading the charge against the Bidens, has already obtained and released three large batches of the first family's bank records, so it's unclear how much more evidence Republicans need to acquire before they can prove wrongdoing. But the investigation isn't really about proving anything at all.
Republicans have already (accidentally) admitted that they don't have the evidence to back up their claims. What they're really trying to do is distract from Donald Trump's legal battles and make Biden look bad ahead of an election.
Representative Matt Gaetz said last week that Republicans should go straight to impeachment proceedings, not just an inquiry. "The purpose of that impeachment, from my standpoint, is not to force a vote that loses," he said. "It's to put on a trial in the Senate and, by the way, not for the sake of conviction."
Gaetz argued that the Senate should try Biden, and then voters can render a verdict at the ballot box in November 2024.
If everyone is talking about a potential impeachment inquiry, then fewer people will be talking about Trump, who is set to turn himself in to Georgia authorities on Thursday for allegedly trying to overthrow the state's 2020 election results.
Not all Republicans are on board with the impeachment plan. Colorado Representative Ken Buck slammed McCarthy in July for using talk of impeachment as a "shiny object" to distract from serious issues.