Report: Elon Musk Has Been Chatting Up Putin While Aiding Ukraine
Reporting for The New Yorker, Ronan Farrow finds a concerned Pentagon at the center of the terminally online mogul and the battlefield resources under his control.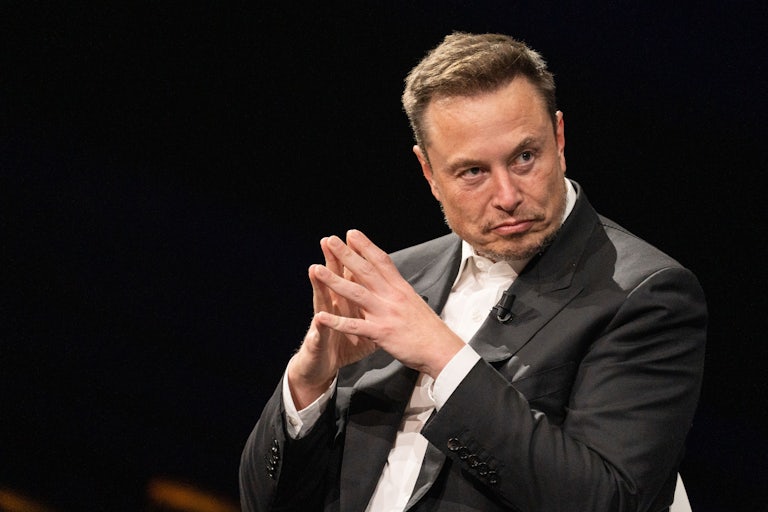 Nathan Laine/Getty Images
Elon Musk has made himself a major player in the Ukraine war by providing the Ukrainian military with internet service. But his help comes at a cost.
Musk became involved with the war shortly after Russia invaded in February 2022. But according to a new profile from Ronan Farrow published Monday in The New Yorker, he repeatedly threatens to cut off Ukraine's access to a tool that has become crucial to its military's success. He also has mentioned several times that he is in contact with Russian President Vladimir Putin, and many of Musk's moves seem geared toward the benefit of Moscow.

"Elon desperately wants the world to be saved. But only if he can be the one to save it," OpenAI CEO Sam Altman told Farrow, perfectly—and perhaps inadvertently—capturing Musk's narcissistic savior complex.

Musk agreed to set up a nationwide network of mobile internet terminals, called Starlink, throughout Ukraine. This would help protect against Russian cyberattacks and allow the Ukrainian military to maintain constant contact while on the battlefield. Nobody thought twice about the fact that Musk could also turn off access anytime he felt like it.

At first, Musk's company SpaceX provided Starlink for free. But as the war dragged on, Musk began to press the Pentagon to start paying for the internet service. Around the same time, he began to express increasing support for Putin's position.

He advocated for the United States to negotiate with the Russian leader and tweeted a "peace plan" he claimed to have invented. That plan involved ceding swathes of Ukraine to Russian control. Reid Hoffman, who co-founded PayPal with Musk, said his former colleague seemed to have "bought what Putin was selling, hook, line, and sinker."

Meanwhile, in Ukraine, soldiers began losing connection on the battlefield, forcing battalions to retreat or commanders to drive into battle just to be in radio range. U.S. and Ukrainian officials told The New Yorker they believed SpaceX had cut off the internet terminals in certain areas, including major battlefields—including Zaporizhzhia, Kharkiv, and Donetsk.

During a call in October 2022 with Colin Kahl, at the time the under-secretary of defense for policy at the Pentagon, Musk said he could see the "entire war unfolding" through Starlink activity. "This was, like, three minutes before he said, 'Well, I had this great conversation with Putin.'" Kahl told The New Yorker. "And we were, like, 'Oh, dear, this is not good.'"

Musk eventually agreed to keep Starlink going for free, and in June, the Defense Department announced it had reached a deal with SpaceX. Although Musk has repeatedly said his ultimate goal is peace, his actions belie that claim. It seems instead that he wants to be the center of attention, and maybe make a few bucks along the way.