WHO Head on Hawaii: This Is the "New Normal." Actually, "Normal" No Longer Exists.
The extreme weather caused by climate change is upending our understanding of reality.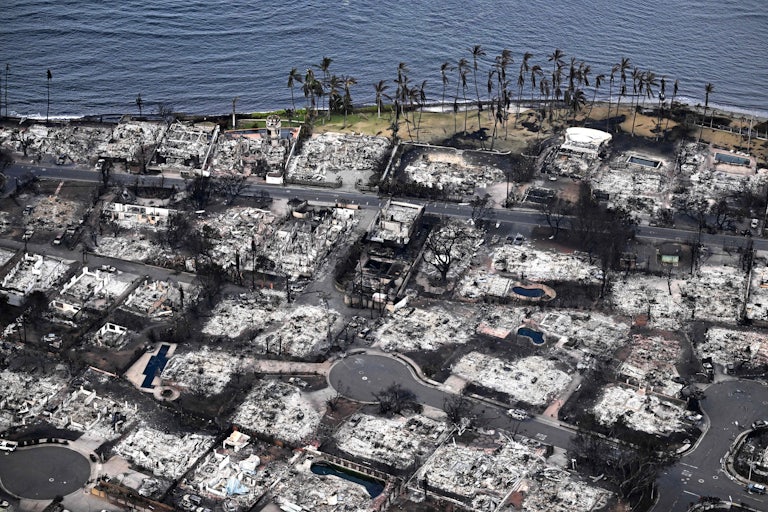 PATRICK T. FALLON/AFP/Getty Images
An aerial image of Lahaina in Western Maui, Hawaii, on August 10
Wildfires in Hawaii have now claimed at least 55 lives. One thousand more are still missing. Blazes leveled large parts of Western Maui, home to the original kingdom of Hawaii and the ancestral land of the Kānaka Maoli.

The drumbeat of climate disasters this summer have had many asking whether heatwaves, fires, and floods are signs of a "new normal" in an overheating world. Tedros Adhanom Ghebreyesus, the head of the World Health Organization, suggested as much in a tweet on Thursday:
As experts have routinely pointed out, though, the climate crisis doesn't promise a new normal so much as the abolition of normal as a means to understand our reality. There are a few things to expect: More people will become acquainted with tragedies they might have thought were confined to certain parts of the world, like when smoke from unprecedented Canadian wildfires blanketed the East Coast. There will be more instances of weather-induced mass death in the news. Climate science doesn't broadcast a list of coming attractions so much as it coheres more and more data as reality unfolds, offering slightly more useful pictures of what might come next.

Many of the horrors climate change will fuel over the coming decades are the result of emissions unleashed before many of us were born; the payoff for climate actions taken now might not be realized until after we're dead. For those feeling helpless in the face of climate-fueled tragedies, weary of the mismatch between the difficulty of emissions reductions and the destruction happening around us, there are some more proximate changes to work toward too.

Deep decarbonizarion is essential. Climate change consistently hits the poorest and (typically) least white corners of society hardest. The climate anxious among us—especially those with the capacity to donate and organize—might do well to push for more affordable housing and awarding tenants more power, while also taxing real estate magnates who make homes unaffordable and displace people. Building an economy that's more welcoming to residents than tourists is every bit as essential to navigating the twenty-first century as cutting carbon.
There is no normal when it comes to climate change, but plenty of norms dictating governments' response to it that can be upended.