What Boiling Oceans Will Do to Life on Land
"We knew this would happen, but the difference is that we thought it would be a little bit later."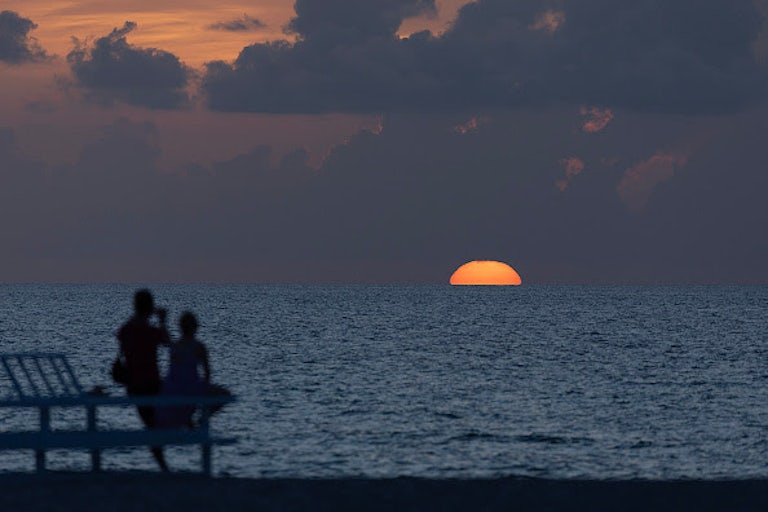 Joe Raedle/Getty
The sun rises over the Atlantic Ocean on July 13, in Miami Beach, Florida.
It's difficult to describe the insanity of what's happening off the coast of Florida right now. A sensor in the Keys last week recorded water temperatures of more than 101 degrees—about the same as a hot tub—in what could be one of the highest ocean temperatures ever recorded; at this time of year, they should be in the 70s and 80s. Corals are bleaching and dying at previously unheard-of rates, thanks in part to the water's steamy conditions.
And it's not just Florida. Across the world this summer, heat waves are gripping the world's oceans—and marine experts are sounding the alarm.
It's easy to think of the oceans as a separate entity, but conditions in them matter a lot to life on land. These Jacuzzi temperatures are another example of how badly climate change is altering the entire balance of our world as we know it—not just under the sea.
The earth just lived through its hottest month on record—but if we didn't have the power of the oceans on our side, things could have been even more catastrophic. Since the 1970s, the world's oceans have absorbed 93 percent of the excess heat in the atmosphere generated by burning fossil fuels and about one-third of the carbon dioxide emissions released into the atmosphere.
Regina Rodrigues, a professor of physical oceanography and climate at the Federal University of Santa Catarina in Florianópolis, Brazil, specializes in marine heat waves. Oceans, she told me, act as a buffer against the most extreme heat for those of us on land.
"If the ocean wasn't absorbing this excess heat, we would be in a much worse situation," Rodrigues said. "It's great for us, but all of this comes at a price." That price is a steady increase in sea surface temperatures: The world's oceans have warmed by around 0.13 degrees Celsius (0.23 degrees Fahrenheit) per decade over the past 100 years.
The unbelievable temperatures recorded in waters across the world this summer aren't all thanks to climate change. The El Niño effect is also helping to heat the tropical North Atlantic, Rodrigues said, and could be impacting the jet stream, which is triggering heat waves around the Florida area. "There's several different things all happening in the same spot at the same time," she said. "That's maybe why we're getting these real extremes."
All this ocean warming has real impacts for life on land. Warmer waters accelerate the melting of the world's glaciers and sea ice, supercharging the rate of sea level rise. Many of the corals that are struggling to survive act as important natural barriers for coastlines, protecting them from storms and floods. Hotter waters can decrease oxygen and key nutrients in the ocean and change the balance of ecosystems, seriously impacting larger species we rely on for food.

We could also be in for some monster storms this year. Warmer sea surface temperatures give hurricanes more ammunition to strengthen before they hit land; warmer air also allows more moisture to form, juicing up these storms. These extreme ocean temperatures are coming right as the Atlantic's hurricane season hits its peak. "Maybe the El Niño will counteract that, but if it doesn't, we could have a very busy hurricane season," Rodrigues said.
In the longer term, the overheating ocean could change weather patterns around the globe. Scientists have long been worried about the functioning of a key ocean current known as the Atlantic Meridional Overturning Circulation in a warming world. The AMOC, which moves warmer water around the Atlantic Ocean, is already slowing down, thanks at least in part to climate change. A study released late last month predicted that, in an absolute worst-case scenario, the AMOC could collapse in as little as two years. While we simply don't know when—or if—the AMOC will collapse or what exactly may happen when it does, the results could be enormous shifts in worldwide temperatures and precipitation—potentially catastrophic changes.
I asked Rodrigues how she was feeling about all this. Even for those of us who cover the climate crisis regularly, that 100-degree-plus reading in Florida was truly shocking—was she feeling that way too?

"It's not that we didn't know extremes would happen, but … what's more surprising is that they're coming faster than what we previously projected in models," she told me. "When scientists say this is 'shocking'—we knew this would happen, but the difference is that we thought it would be a little bit later, not so quick. But these extreme events are coming really hard, and really quick."
Good News
Coal-heavy Wyoming is making a big bid to move into wind energy this year.
Bad News
At least 20 people are dead and thousands forced to evacuate as devastating floods hit Beijing this week.
Republican opponents are beginning to use Florida's insurance crisis—some companies are ending coverage in the state thanks to climate change—against Governor Ron DeSantis on the campaign trail, ABC News reports:
With hurricane season looming this summer, DeSantis is now being pressed to answer for the issue: from Trump, the race's frontrunner, who has begun to regularly repeat the insult during his rallies on the national campaign trail, and from other politicians in Florida.

"Governor, come home and take care of your state," said Democratic State Sen. Tracie Davis, who is asking DeSantis to call a special session and provide immediate financial relief for policyholders, during a recent news conference. "We all know that he's running for president, but we have real problems, real issues."

While the problem predates DeSantis' time in office, it marks a moment of irony for the presidential candidate who made a name for himself dismissing climate-informed financial decision making as a "woke" ideological ploy, rather than a reasoned response to the physical reality of climate change, which scientists believe is making precipitation from hurricanes more intense.
Read Laura Gersony's full report at ABC News.
This article first appeared in Life in a Warming World, a weekly TNR newsletter authored by contributing deputy editor Molly Taft. Sign up here.