Navy Secretary: Tuberville Is "Aiding and Abetting" Communists With Military Blockade
Secretary of the Navy Carlos del Toro blasted Republican Senator Tommy Tuberville for his continued blockade of military promotions.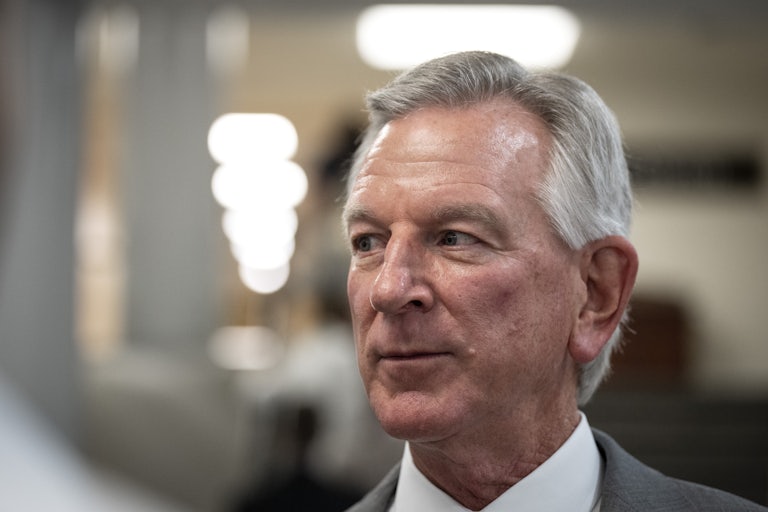 Drew Angerer/Getty Images
Republican Senator Tommy Tuberville
The secretary of the Navy has condemned Alabama Senator Tommy Tuberville for "aiding and abetting" Communist regimes with his months-long blockade of military promotions in objection to the Department of Defense's abortion policy.
The Republican senator has blocked hundreds of promotions since March in protest over the department's policy of reimbursing travel costs for service members who have to go out of state for an abortion. The Defense Department has warned that the blockade, which has left three branches of the military without official leaders, harms U.S. national security. Navy Secretary Carlos Del Toro on Tuesday issued the most scathing denunciation yet.
"As someone who was born in a Communist country, I would have never imagined that actually one of our own senators would actually be aiding and abetting Communist and other autocratic regimes around the world," Del Toro, who was born in Cuba, told CNN. "This is having a real negative impact."
Tuberville has blocked an unprecedented 301 military promotions over the abortion policy, resulting in the Army, Navy, and Marine Corps being led by "acting" military leaders instead of confirmed ones. Some Pentagon officials have commented that if this continues, the Joint Chiefs of Staff will have to be renamed the "Joint Chief of Staff," the Defense Department noted wryly in a Tuesday news brief.
The Pentagon says the policy will stay in place, and Joint Chiefs of Staff Chair Mark Milley warned that U.S. adversaries could interpret Tuberville's blockade to mean the "United States was in a situation of internal division, instability … at the highest levels of its military."
Tuberville continues to falsely insist that he is not endangering U.S. security or military readiness. "I'm disappointed that a secretary would say that about a senator. Makes you feel bad that we got leaders in the country like that," he told CNN's Manu Raju on Tuesday. "If I thought it was hurting readiness, I wouldn't be doing this. But it's not."
Pentagon spokesman John Kirby hit back later that evening. "My best advice to the senator is, if you don't like being criticized for this outrageous effort to hold up these promotions and advancements, then lift your hold," he said on CNN.
"If it bothers you that we're publicly talking about the impacts it's having—and it is having an impact—then just lift the hold."
Tuberville may have already reaped some consequences for the blockade. President Joe Biden announced in July he will keep the U.S. Space Command headquarters in Colorado, instead of moving it to Alabama as his predecessor wanted. White House officials said abortion policy had no influence in the decision, but the move still means that Alabama will miss out on 1,400 jobs and millions of dollars in economic impact.