Eminem Has Had Enough, Sends Cease and Desist to Vivek Ramaswamy
Eminem is fed up with the 2024 Republican candidate for using his music.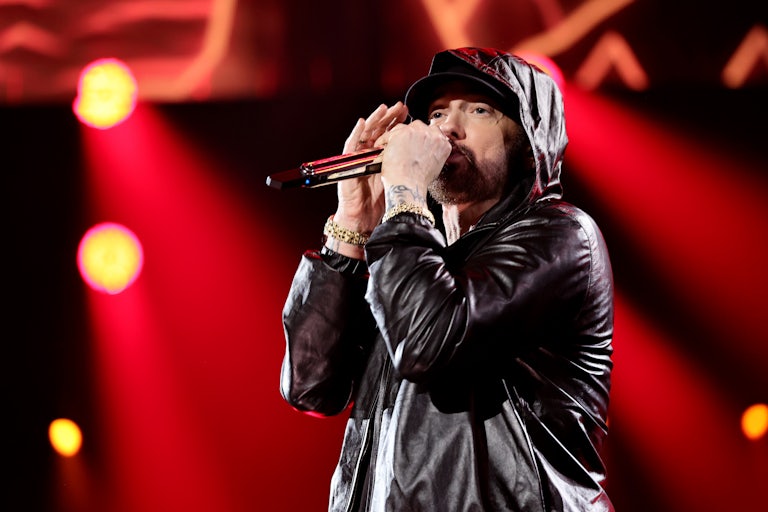 Theo Wargo/Getty Images for The Rock and Roll Hall of Fame
Eminem has asked Vivek Ramaswamy to stop using the rapper's songs on his presidential campaign.
Ramaswamy often performed (badly) as a libertarian rapper while he was at Harvard, and Eminem's "Lose Yourself" was one of his favorite songs. Ramaswamy has since tried to reclaim his rapper status, freestyling terribly on Fox & Friends and performing "Lose Yourself" at the Iowa State Fair.
In a letter dated August 23, Eminem's lawyer informed Ramaswamy's campaign that Eminem objected to their repeated use of his music during their campaign stops.
It shouldn't be surprising that Eminem opposes Ramaswamy using his music. The rapper has long made his political stances clear. He released a protest song against George W. Bush in 2004 that criticized the then president for invading Iraq and Afghanistan in the wake of 9/11. In 2017, Eminem wrote a song in support of the Black Lives Matter movement and released a freestyle rap railing against Donald Trump's morals, policies, and racist behavior.
Ramaswamy, on the other hand, is more interested in sucking up to Trump, battling "wokeness," and insisting that 9/11 was an inside job.