UPS and Teamsters Reach "Most Historic" Labor Deal Ever, Likely Averting Strike
"I have never seen a national contract that levels the playing field for workers so dramatically as this one."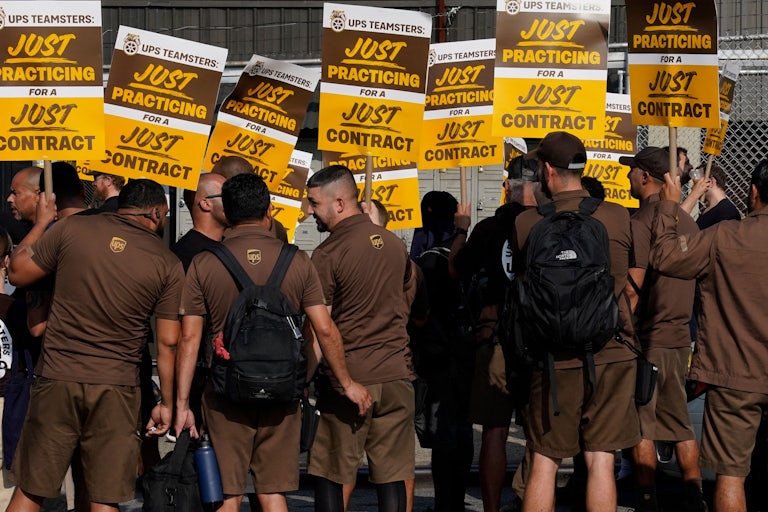 TIMOTHY A. CLARY/AFP/Getty Images
The Teamsters union reached a "historic" tentative contract agreement on behalf of UPS on Tuesday, securing major wins for workers and likely averting a strike at the last minute that would have crippled shipping nationwide.
Negotiations for UPS workers broke down earlier this month, and a strike looked increasingly likely with every passing day. But Teamsters resumed talks Tuesday and managed to get "the most historic tentative agreement for workers in the history of UPS," the union said in an announcement. The new benefits and protections will affect more than 340,000 UPS employees.
"In my more than 40 years in Louisville representing members … I have never seen a national contract that levels the playing field for workers so dramatically as this one," said Fred Zuckerman, the Teamsters' general secretary-treasurer, in the statement.
The new benefits include massive wage increases that will see full-time workers earn up to $49 per hour (the highest salary for delivery drivers in the country) and part-time workers earn up to $23 per hour. The contract also eliminates a two-tier wage system that caused anger over pay inequalities.
The agreement improves health and safety conditions, including improved air conditioning in the cabs and ventilation in the cargo hold. (Recall that just last month, a postal worker in Texas collapsed and died while working, due to the excessive heat.) Employees will get Martin Luther King Jr. Day off for the first time, and they can no longer be forced to work overtime on their days off. The contract will also create thousands of new jobs so part-time workers can transition to full-time.
The union will vote to ratify the deal, likely next week. Until they approve it, the threat of a strike still looms in the background. If UPS goes on strike, it will be the largest single-employer strike in U.S. history. Experts warn that a 10-day strike could cost the economy $7 billion, and the shifted flow of packages would be more than other carriers such as FedEx and the U.S. postal service can manage.
But leaders are confident that the deal delivers for their members.
"Rank-and-file UPS Teamsters sacrificed everything to get this country through a pandemic and enabled UPS to reap record-setting profits," union president Sean O'Brien said in the statement. "The union went into this fight committed to winning for our members. We demanded the best contract in the history of UPS, and we got it.
"We've changed the game. This contract sets a new standard in the labor movement and raises the bar for all workers."