Republicans Want to Cancel Barbie for Being Communist
The movie's producers are "endangering our national security," claimed one lawmaker.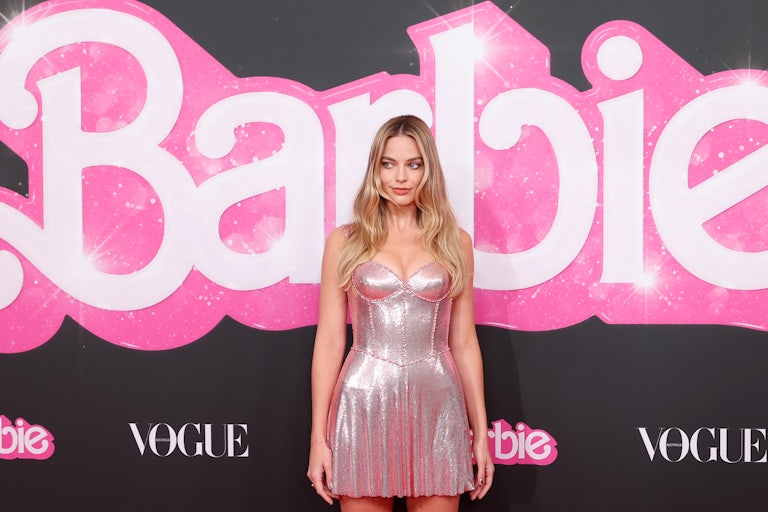 Don Arnold/WireImage
"Barbie" actress Margot Robbie
She's a Barbie comrade, in a Communist Barbie world—or so say Republicans, who are doubling down on accusations that the upcoming Barbie movie is Chinese propaganda.
The film, which comes out July 21, stars Margot Robbie and Ryan Gosling as Barbie and Ken, who leave Barbie Land to explore the real world. In one scene before they leave, a rough, hand-drawn map of the world can be seen in the background. The map includes the so-called nine-dash line, a much-disputed division of territory in the South China Sea.
Senator Ted Cruz was one of the first U.S. lawmakers to weigh in, sarcastically tweeting, "I guess Barbie is made in China.…" Fox News commentators speculated outright whether Barbie was Communist or not.
More Republicans have joined them. "While it may just be a Barbie map in a Barbie world, the fact that a cartoonish, crayon-scribbled map seems to go out of its way to depict [China's] unlawful territorial claims illustrates the pressure that Hollywood is under to please CCP censors," Representative Mike Gallagher, who chairs the House select committee on China, told Fox News Digital on Thursday.
Representative Jim Banks, who also serves on the select committee, accused the film's producers of "endangering our national security."
"We defeated the Soviet Union with Coke, Levi's and James Dean. We need soft power superiority just as much as we need military superiority to win the new Cold War with China, and that's impossible with Hollywood working alongside the Chinese Communist Party," he said.
Representative Mike Waltz accused Hollywood of "hypocrisy" and slammed Barbie as "yet another disgraceful example of Hollywood being in the pocket of communist China." Senator Marsha Blackburn accused the movie of "bending to Beijing."
Representative Mark Green warned Hollywood that continuing to spread Chinese propaganda would cost the industry federal support. "In no world should American films be spreading CCP propaganda," he said. "I encourage all film studios to stand with integrity or lose support from federal entities like the DOD."
In March, Green reintroduced the SCREEN Act, which would bar the U.S. government from helping American studios produce films if the movie is co-produced by a Chinese company.
China has used the nine-dash line to mark its controversial territorial claims in the South China Sea. Over the years, Beijing has tried to claim sovereignty over 90 percent of the region. Even though The Hague ruled in 2016 that China has no legal basis for its claims, the country has pressed on, building military installations on otherwise uninhabited islands in the sea.
Hanoi has already banned the Barbie movie for its inclusion of the nine-dash line, which Vietnam, the Philippines, Taiwan, Malaysia, and Brunei all say violates their sovereignty. The Philippines is also considering banning the film.
For the record, here is the shot in question of the nine-dash line: