DeSantis Unironically Says People Who Attack Wokeness Don't Know What It Means
The Florida governor slips up in his "anti-woke" quest.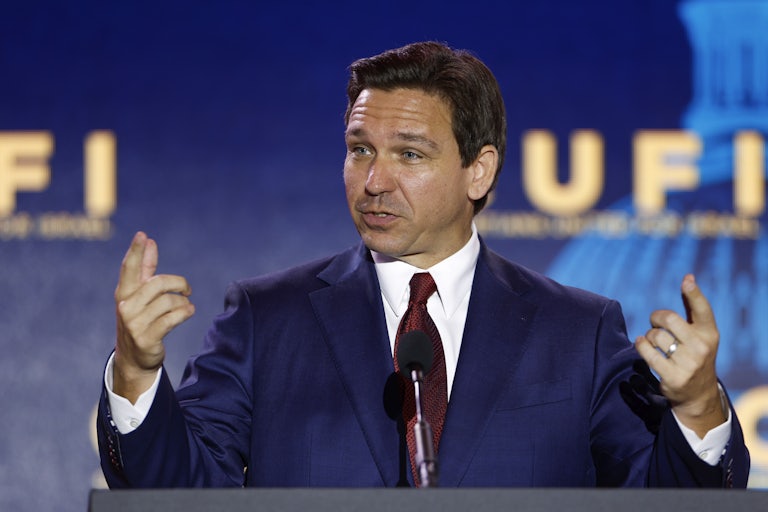 Anna Moneymaker/Getty Images
On Tuesday, Ron DeSantis sat down with CNN's Jake Tapper for an exclusive interview. Among other things, the self-proclaimed Anti-Woke Wiz claimed that "people who rail against 'wokeness' can't even define it," with no hint of self-awareness apparently.
"I think there's an issue about—like not even—no one really knows what 'wokeness' is. I mean, I've defined it, but a lot of people who rail against 'wokeness' can't even define it," DeSantis said. "And so I think it's a sense of: You know, this is not something that's holding true to the core martial values that make the military unique," he continued.

"And I can tell you, the veterans—you don't have to look far and wide—go to a VFW hall, go to an American Legion, uh, there's huge amount of concern about the direction the military is going with all this."
DeSantis made the comments while describing his plan to target diversity initiatives within the military. Tapper had pointed out that of all the concerns listed in a survey of military recruits, discrimination against women and ethnic minorities was number two; "wokeness" was number nine.
The Florida governor also made the comments while complaining about recruitment being at an all-time low since the "Vietnam conflict" and end of the draft, seeming to miss that perhaps "conflicts" like America's fool-hearted Vietnam incursion are part of the reason people don't want to join the military.