"I Will Ask It a Third Time": Vivek Ramaswamy Refuses to Explain Past Trump Criticism
MSNBC host Mehdi Hasan grilled Republican presidential candidate Vivek Ramaswamy on his past comments in a heated interview.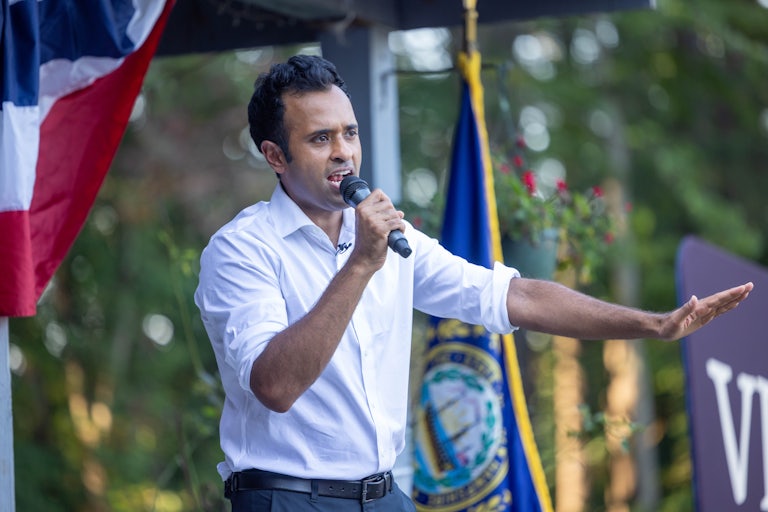 Scott Eisen/Getty Images
Vivek Ramaswamy is so committed to sucking up to Donald Trump that he won't even explain his own past criticism of the former president.
Trump was banned from Twitter and Facebook days after the January 6 riot for inciting violence on the platforms. Ramaswamy criticized the tech giants' move in a Wall Street Journal opinion piece as a violation of free speech, but he also had some choice words for Trump himself. Ramaswamy described the riot as "disgraceful" and called Trump's actions "egregious" and "downright abhorrent" on Twitter.
But now that he is running against Trump for president, Ramaswamy is confusingly and aggressively refusing to address his comments. When MSNBC's Mehdi Hasan pressed him about the criticisms Wednesday night, Ramaswamy did everything he could to avoid actually answering the question.
"What did Donald Trump do, in your view, that was 'downright abhorrent'? Second time I've asked that question," Hasan said.
"The thing that I would have done differently if I were in his shoes, is I would have declared reelection on January 7," Ramaswamy replied.
Hasan asked Ramaswamy to explain his comments several more times, but Ramaswamy never gave a straight answer. Instead, he kept saying what he would have done on January 6.
The interview is a clear example of how most Republican candidates are too scared to criticize Trump—even though they are running against him. Trump is the front-runner by a wide margin, and the other presidential hopefuls can't afford to alienate his supporters if they want to peel any away from him.
Ramaswamy has also taken several pages from Trump's playbook. The biotech entrepreneur has openly embraced making Eminem angry, pushing conspiracy theories, caving to autocratic leaders, and using his campaign to evade lawsuits.