Clip and Save: The Biggest Republican Hypocrites on Biden Impeachment
Republicans bashed Nancy Pelosi for moving forward an impeachment inquiry on Trump without a vote—and then supported the exact same thing on Biden.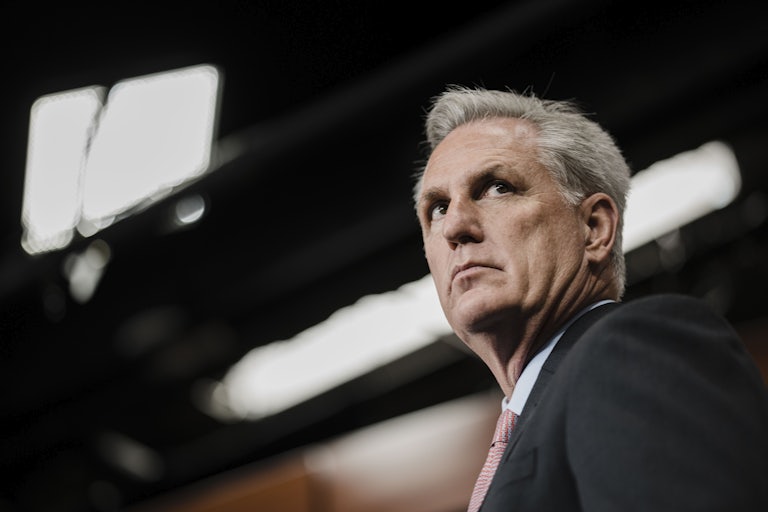 Kent Nishimura/Los Angeles Times/Getty Images
When House Speaker Kevin McCarthy ordered the launch of an impeachment inquiry into Joe Biden, he did so without holding a vote first, despite previously criticizing his predecessor for doing something similar. And many of his Republican colleagues followed in his hypocritical steps.
McCarthy had slammed then-Speaker Nancy Pelosi for impeaching Donald Trump in 2019 without first holding a vote. But he still opened the inquiry Tuesday without a vote and without any evidence. He said that Pelosi's actions "changed the precedent"—but there are a few key differences between the two.
As Pelosi explained on MSNBC Thursday, Democrats actually looked into the facts before moving forward with impeachment. Republicans, on the other hand, have "had eight months of investigation, [and] come up with nothing."
Another major difference is that in 2019, the House voted to formalize the impeachment a month later. It is unlikely that will happen this time around, since multiple Republicans are not on board with McCarthy's plan.

Still, like McCarthy, several Republicans have pulled a similar 180, bashing Pelosi in 2019 for moving ahead with an impeachment inquiry into Trump without a vote, while supporting the same exact thing when it comes to Biden. Here is a list of some of the biggest hypocrites.
Jim Jordan
Representative Jim Jordan repeatedly slammed Pelosi's October 2019 impeachment inquiry as a "sham." Even after the House voted on the impeachment, Jordan, then the ranking member of the Oversight Committee, tweeted, "Codifying a sham process halfway through doesn't make it any less of a sham process."
As recently as Sunday evening, Jordan insisted on having a vote before opening an impeachment inquiry into Biden. But after McCarthy announced the inquiry, Jordan suddenly changed tune.
"You don't need [a vote] to move forward. There's all kinds of evidence that warrants moving to this phase," he told Fox & Friends Wednesday.
Jordan chairs the powerful House Judiciary Committee and will play a key role in the impeachment inquiry.
James Comer
House Oversight Chair James Comer has spearheaded the months-long, fruitless investigation into Biden. He said he was "very happy" about the impeachment inquiry.
"I think we've proven a lot of things that I think no one knew when we started this investigation," he said, despite having proven nothing.
But in 2019, he accused Pelosi of "partisan politics" for launching the impeachment inquiry without a vote.
Matt Gaetz
Representative Matt Gaetz has repeatedly called for Biden to be impeached, not just investigated. Since the impeachment investigation was launched, he has urged Congress to move faster and accused McCarthy of only doing "the right thing when he has a political gun to his head."
But when Pelosi launched the first Trump impeachment inquiry, Gaetz said it was "deeply troubling" that the measure didn't have enough support to pass a vote.
He also said the Republican Party isn't "against transparency; what we're against is this notion that like it's, 'Impeach first, investigate later.'" This comment is highly ironic considering Republicans are launching the impeachment inquiry in order to try to find evidence of Biden's wrongdoing.
Ken Buck
Representative Ken Buck was one of the loudest anti-impeachment voices in the Republican Party, accusing McCarthy of using impeachment talk to distract from spending bills. But he appeared to change his mind after the inquiry was announced.
"I think it's a good move," Buck told Politico. "We have to focus on spending, we have to make sure the government doesn't shut down.… I think taking this off the table and not having a distraction is a good move."
In comparison, in 2019, Buck accused Democrats of "conducting an impeachment inquiry without due process, fairness, or transparency."
Andy Biggs
Representative Andy Biggs is one of McCarthy's loudest critics, even having campaigned against him for House speaker in January. But he praised the impeachment inquiry in a statement.
"I've long called for the impeachment of President Joe Biden. An impeachment inquiry steers us in a better direction to accomplish that, but more work remains to be done," he said. "House Republicans cannot lose focus with this inquiry and slow walk bringing impeachment articles to the House Floor."
But in 2019, he called Pelosi's impeachment inquiry "a sham and a fraud."
"If she is intent on launching impeachment proceedings, then she should immediately put an impeachment resolution on the House floor for the tell-all vote," Biggs said. "Speaker Pelosi's failure to do so is a continuation of the hoax that Democrats have perpetrated on the American people for the past three years. She is trying to have this both ways."