Kevin McCarthy Caught in Lie of His Own Making on Biden Impeachment
The House speaker rushed through his call for a Biden impeachment, and the press called him out on it.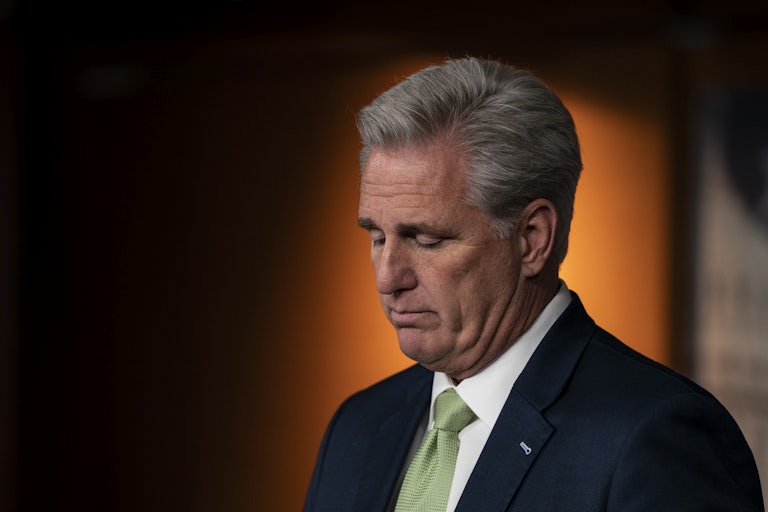 Alex Edelman/Getty Images
Kevin McCarthy was called out Wednesday for not having the votes to launch an impeachment inquiry into Joe Biden, and he did not respond well.
The House speaker launched an impeachment inquiry into Biden on Tuesday, after months of the GOP insisting that the president is guilty of corruption and influence peddling overseas. Republicans have yet to produce any actual evidence of their claims.
McCarthy ordered House Republicans to proceed with the inquiry, despite promising less than two weeks ago that he would not open the probe without a vote. When CNN's Manu Raju asked him about that, McCarthy lashed out.
"You told Breitbart 12 days ago that you had the votes, so what changed?" Raju asked.
"You know what's interesting to me?" McCarthy snapped back. "I just laid out to you a lot of allegations … so you don't care about any of the answers."
McCarthy accused Raju of not caring about whether Biden or his son, Hunter, had committed crimes. Typically, an impeachment inquiry would occur because there was already proof of crimes committed, not as a way to try and find that evidence.
The California Republican also attacked Nancy Pelosi for impeaching Donald Trump the first time without first holding a vote. McCarthy had similarly criticized Pelosi for doing so in 2019, so you would think that he would want to avoid copying her.
Another major difference is that a month after Pelosi opened the impeachment inquiry into Trump, the House voted to formalize the impeachment. It was unlikely the House would have backed McCarthy's impeachment inquiry, though, as multiple Republicans said they were not on board with his plan.