Ex-Trump Aide Says Rudy Giuliani Sexually Assaulted Her on January 6
Former White House aide Cassidy Hutchinson says Giuliani was a huge creep even on January 6.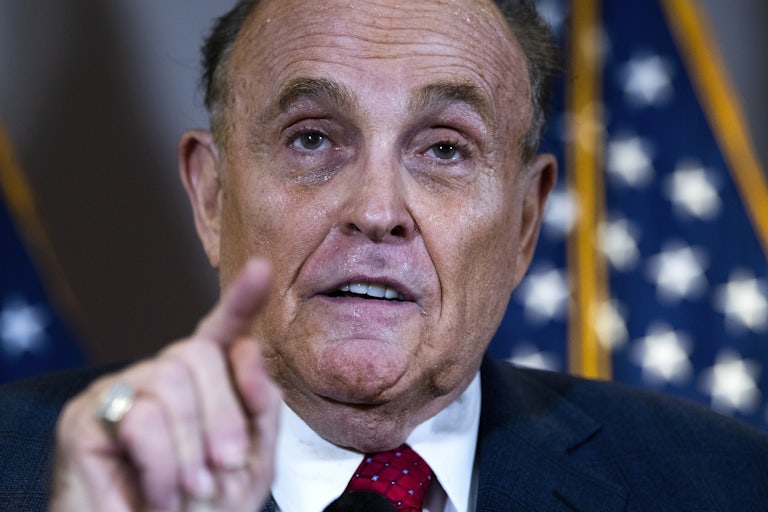 Tom Williams/CQ-Roll Call, Inc/Getty Images
Nothing will stop Rudy Giuliani from being a giant creep, not even preparing to lead an insurrection, former White House aide Cassidy Hutchinson has alleged.
Hutchinson worked as the top assistant to Donald Trump's chief of staff Mark Meadows, and she eventually became a star witness for the House January 6 investigative committee. In her new book, Enough, Hutchinson accuses Giuliani of groping her just before Trump's speech on January 6, The Guardian reported Wednesday.
In an excerpt from the book, Hutchinson describes waiting in a marquee tent at the Ellipse, just before Trump addressed the crowd that would eventually turn into a raging mob. She says Giuliani approached her "like a wolf closing in on its prey."
"Rudy wraps one arm around my body, closing the space that was separating us. I feel his stack of documents press into the small of my back. I lower my eyes and watch his free hand reach for the hem of my blazer," Hutchinson writes.
"'By the way,' he says, fingering the fabric, 'I'm loving this leather jacket on you.' His hand slips under my blazer, then my skirt."
"I feel his frozen fingers trail up my thigh," she continued. "He tilts his chin up. The whites of his eyes look jaundiced."
When Hutchinson looked to John Eastman, another Trump lawyer, for help, he only "[flashed] a leering grin."
Giuliani denied Hutchinson's account and accused her of sharing it now "as part of the marketing campaign for her upcoming book release."
"This is a disgusting lie against Mayor Rudy Giuliani—a man whose distinguished career in public service includes taking down the Mafia, cleaning up New York City and comforting the nation following September 11th," Giuliani's political adviser said in a statement, weirdly linking Giuliani's behavior to his response to the 9/11 attack.
It would seem that Giuliani is taking a page from the book of his former boss Donald Trump, who accused writer E. Jean Carroll of saying he raped her just to promote her memoir. A judge ruled earlier this month that Trump is liable for defamation over those comments and owes Carroll monetary damages.
Giuliani's alleged disgusting behavior should come as no surprise. His former associate sued him in May for even more repulsive behavior.
Noelle Dunphy accused Giuliani of promising to pay her a $1 million annual salary but instead raping and sexually abusing her over the course of two years. Her lawsuit alleges that Giuliani was constantly drunk, talked openly about trying to overturn the 2020 election, and even plotted to sell pardons with Donald Trump at the low, low price of $2 million each.
In August, Dunphy's lawyer filed transcripts of recordings she made in 2019 that show just how disgusting Giuliani was. In multiple different conversations, Giuliani made aggressively lewd and possessive comments to Dunphy, at one point saying, "I want to own you, officially."
He said he gets "hard" when he thinks about her and how smart she is, even though normally, "I'd never think about a girl being smart. If you told me a girl was smart, I would often think she's not attractive."
This article has been updated.