The Lauren Boebert Date Story Just Got Super Weird
Here are five legit questions we still have about that "Beetlejuice" date.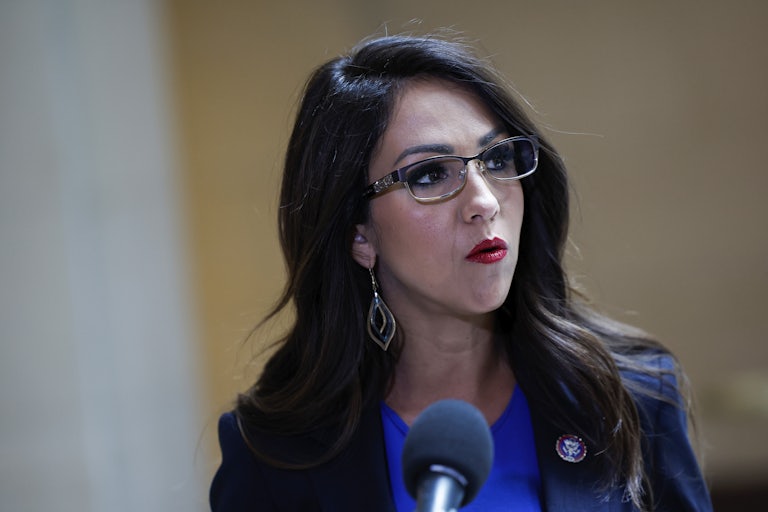 Anna Moneymaker/Getty Images
Representative Lauren Boebert says she's "back to work" after the nightmare date seen around the country. But her latest comments have raised more questions than they answered.
"All future date nights have been canceled, and I learned to check party affiliations before you go on a date," Boebert jokingly told TMZ on Monday.

Boebert and a date were kicked out of the Buell Theatre in Denver during a Sunday evening performance of Beetlejuice after their behavior sparked three complaints from other attendees. An incident report said the pair were vaping, singing along, recording the show, and generally "causing a disturbance." This was backed up by security video, which also showed the couple getting handsy in their seats.
Boebert's comment about checking party affiliation seems to imply that she had not known the man for very long—and TMZ inferred that the night in question was Boebert's first date with him. The man has been identified as Aspen, Colorado, bar owner Quinn Gallagher. Gallagher is believed to be a Democrat, and the bar he co-owns has hosted multiple LGBTQ-friendly events, including a drag show. Boebert, meanwhile, has repeatedly pushed the false and dangerous Republican conspiracy theory that drag queens are grooming children.
If all of this is true, then we have some questions.
This was their first date? They seemed very comfortable with each other.

Does Boebert vape near (and then tell off) pregnant women on all of her first dates?

How did their politics not come up beforehand?

If Gallagher's a Democrat, why would he go on a date with Boebert?

And why would she go on a date with him?