GM CEO Twists Herself Into Pretzel Trying to Defend Outlandish Salary
As a historic UAW strike begins, the General Motors CEO is doubling down on why she deserves this much money.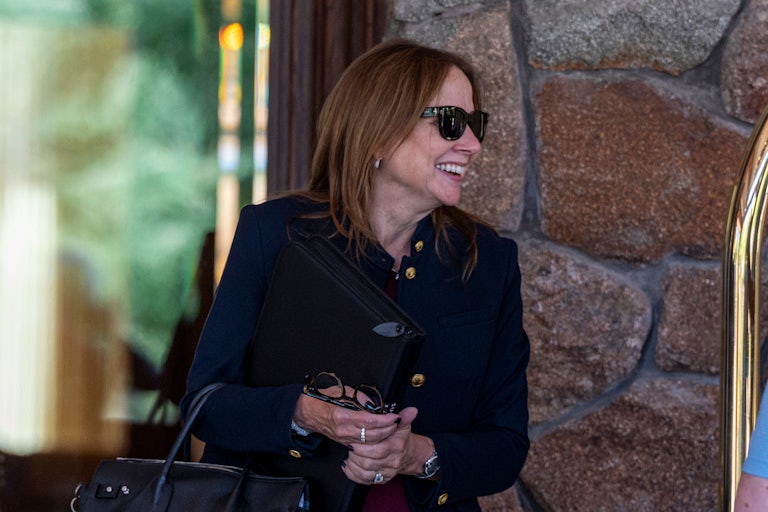 David Paul Morris/Bloomberg/Getty Images
General Motors CEO Mary Barra is working overtime to defend her outlandish $30 million salary, as United Auto Workers begins a historic strike against the Big Three auto companies.

Barra appeared on CNN Friday morning and was asked why General Motors workers should not get the same type of pay increases she has in the last few years.
"You make almost $30 million; why should your workers not get the same type of pay increases that you're getting leading the company?" asked CNN's Vanessa Yurevich.
"My compensation, 92 percent of it, is based on performance of the company," Barra said. "When the company does well, everyone does well."
What Barra really means is this: Her compensation as CEO is tied to General Motors' profit margins. This means that Barra's exorbitant salary is also a function of how low she can keep autoworkers' wages. Barra's salary has increased 34 percent over the last four years, while in four years workers' pay has only increased by 6 percent.

Under the current contract, the $18 per hour starting pay for autoworkers is about 36 percent below where it would be if the 2007 starting wage had kept up with inflation. The UAW is asking for a 36 percent pay increase over the next four years, as well as improved benefits and a 32-hour workweek.

As UAW noted, during the eight-and-a-half minute CNN interview Barra made more money than any autoworker makes in a full day.