Broke Rudy Giuliani Ordered to Pay Damages to Georgia Election Workers He Defamed
Rudy Giuliani is facing at least a six-figure fine in a defamation case brought by Ruby Freeman and Shaye Moss.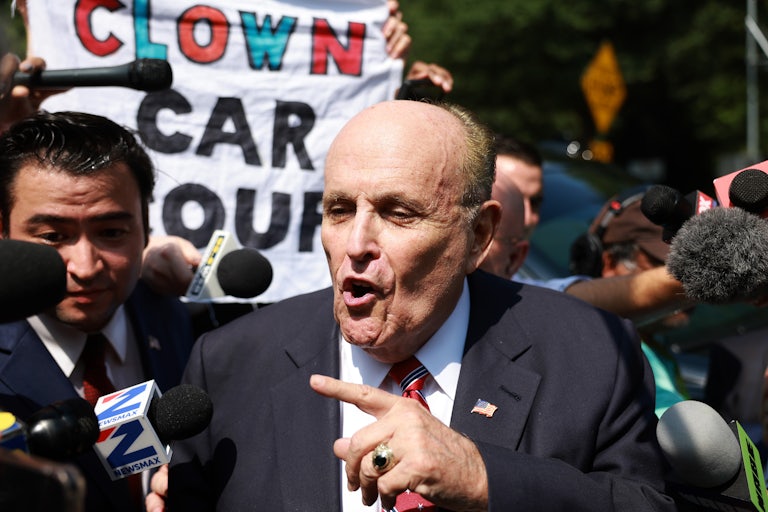 Joe Raedle/Getty Images
A judge issued a default judgment against Rudy Giuliani Wednesday in a defamation lawsuit brought by two women who worked during the Georgia 2020 election.
Judge Beryl Howell sanctioned Giuliani for failing to provide discovery documents and other evidence requested by lawyers for Ruby Freeman and Shaye Moss. Howell ordered him to pay $133,000 in sanctions and gave the two sides until September 20 to set up a trial date to determine how much Giuliani also owes the women in compensatory and punitive damages. If he fails to comply, Giuliani will face further sanctions.
"Just as taking shortcuts to win an election carries risks—even potential criminal liability—bypassing the discovery process carries serious sanctions," Howell said in her ruling. She slammed Giuliani for complaining about the plaintiffs' efforts to make him comply with the discovery process, which he called "punishment by process."
"Donning a cloak of victimization may play well on a public stage to certain audiences, but in a court of law this performance has served only to subvert the normal process of discovery in a straightforward defamation case," Howell said.
Giuliani denied any wrongdoing in a statement and called for Howell's ruling to be overturned. He described it as "the weaponization of the justice system," a popular Republican dog whistle.
Giuliani, then acting as former President Donald Trump's personal attorney, for months accused Freeman and Moss of election fraud. The man once known as "America's mayor" insisted that security footage of the pair proved that thousands of ballots in Georgia were mishandled or sabotaged.
His claims have been widely and repeatedly disproven by both state and federal investigators, but Trump and his allies have held up Giuliani's statements as evidence the 2020 election was rigged. Freeman and Moss sued Giuliani for defamation and told the House January 6 investigative committee that they have faced threats and experienced damage to their livelihoods as a result of Trump's and Giuliani's actions.
Giuliani finally conceded in July that he had made "false" statements about Freeman and Moss, but he worded his admission in a way to meet the barest-minimum level of accountability. He insisted that he only made the concession to move the lawsuit along and that he believed he still had legal defenses he could pursue.
Just two weeks later, Giuliani was indicted alongside Trump and 17 other co-defendants and charged with felony racketeering for their role in efforts to overturn the 2020 presidential election results in Georgia.
This article has been updated.