Former Judge Trashes "Stunningly Stupid" Move From Trump's Legal Team
Trump's legal team tried to compare his trial to a landmark Supreme Court case.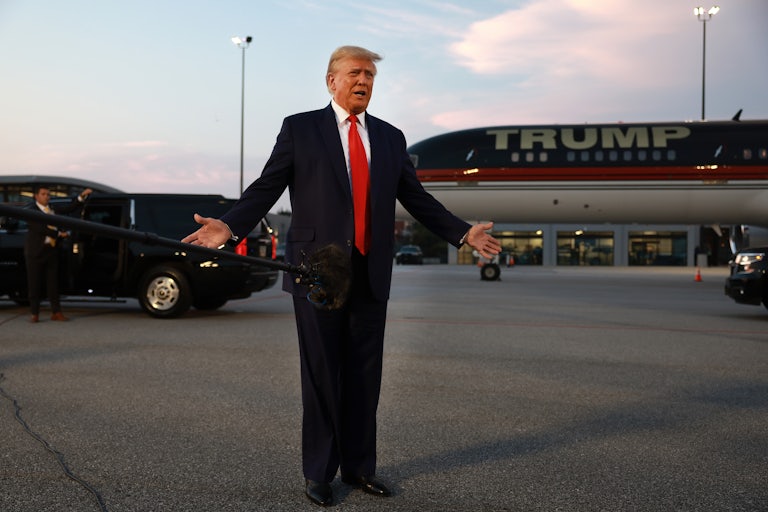 Joe Raedle/Getty Images
Donald Trump's legal team tried comparing his federal trial date to the case of the Scottsboro Boys, a move that a retired judge called "stunningly stupid."
District Judge Tanya Chutkan on Monday set Trump's election interference trial for March 4, 2024. Before she made her final decision, Trump's lawyers tried to request a later trial date by comparing Trump's case to Powell v. Alabama, also known as the Scottsboro Boys case. The Scottsboro Boys were nine Black teenagers accused of raping two white women in Alabama in 1931. The boys were rushed to trial, during which they had terrible legal representation, and convicted just days after the alleged incident. The Supreme Court overturned their convictions the following year, and the case is frequently cited as a glaring example of racial injustice in the U.S. legal system.
"The moment in that hearing that struck me, I only have two words to describe it as 'stunningly stupid.' And that was when Trump's attorney compared their desire to delay the case to what happened in the case of Powell v. Alabama," LaDoris Cordell told CNN Monday night about Trump's hearing, referring to the Supreme Court case that overturned the Scottsboro convictions.
"What the Trump team did was say that, well, what happened in that trial is what could happen here in this trial, which is absolutely absurd."
Judge Chutkan, of course, dismissed the comparison and set Trump's trial date for the heart of the Republican primary season.
Trump was indicted for his role in the January 6 insurrection and other attempts to overturn the 2020 presidential election, one of four indictments. His legal team proposed the trial begin in April 2026, well after the presidential election. The hope was likely that Trump would have been reelected by then and could avoid federal charges.
Special counsel Jack Smith, who investigated Trump for this indictment and for his alleged mishandling of classified documents, requested that the trial begin in January. Chutkan said neither date was appropriate and set the trial for March—the day before Super Tuesday.
Cordell said she suspected Chutkan, who is Black, was "offended" by the comparison to the Scottsboro Boys. Chutkan has already begun receiving death threats from Trump supporters.