Harvard Names Graduate School After Republican Billionaire Megadonor Who Loves Ron DeSantis
Ron DeSantis is leading an attack on academic freedom. And Ken Griffin is one of his biggest financial backers.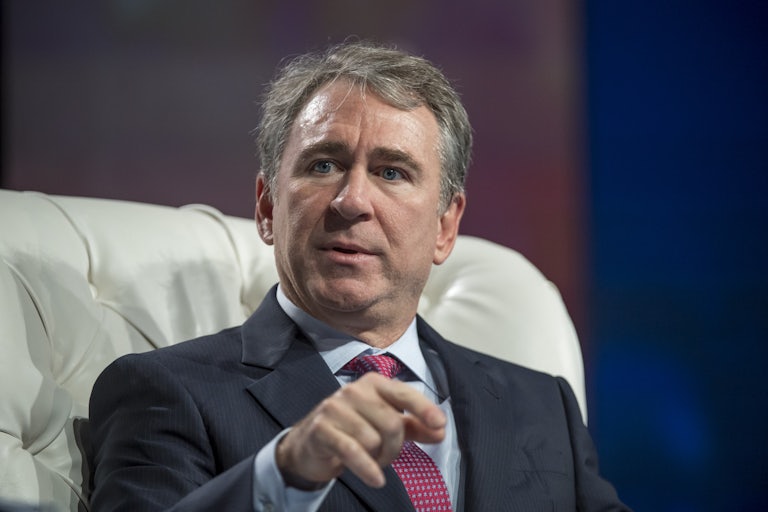 David Paul Morris/Bloomberg/Getty Images
Ken Griffin
Harvard's Graduate School of Arts and Sciences announced Tuesday it will be renamed for a Republican billionaire megadonor who is one of Ron DeSantis's biggest financial backers.
Hedge fund CEO Ken Griffin graduated from Harvard in 1989. The school praised his $300 million gift, saying it will help it advance its research and expand its ability to provide students with financial aid.
But people were confused by the fanfare over his gift and the decision to give Griffin such a prominent reward. Harvard's endowment fund is $53.2 billion, the largest academic endowment in the world, so Griffin's gift is a drop in the bucket for them.
But more than the money, people are pretty mad about Griffin himself. The billionaire is currently the third-biggest individual political donor in the country, having given a total of $71,050,000 to exclusively conservative causes, according to OpenSecrets.
A report published in November by the group Americans for Tax Fairness found that Griffin gave $66.1 million to several Republican super PACs and candidates during the 2022 midterm elections. That election cycle was the most expensive midterms ever, as billionaires rushed to exert influence over the outcomes.
Griffin actually was one of Barack Obama's biggest fundraisers when he first ran for election in 2008. But by 2012, Griffin had flipped, transferring his vote and his money to then–Republican nominee Mitt Romney.
He alleged the Obama administration had "embraced class warfare as being politically expedient" and argued that wealthy people had "insufficient influence" in politics.
Most recently, Griffin has thrown his weight behind Ron DeSantis. He was the Florida governor's biggest donor during the 2022 election, giving $5 million to DeSantis's reelection campaign.
Griffin has repeatedly said he would "love" to see DeSantis run for president in 2024. During a March interview with Bloomberg, Griffin said he disagreed with DeSantis on a few points, such as the governor's going after Disney for criticizing Florida's "Don't Say Gay" law or spreading doubt about Covid-19 vaccines.
To be clear, Griffin didn't say he disagreed with DeSantis's motivations. Instead, Griffin said he thought the Disney retaliation was government overreach and the vaccine disinformation was poorly worded and framed.
Meanwhile, DeSantis has come under fire recently for going after educational freedom in Florida. He has promised to defund diversity, equity, and inclusion programs on college campuses; limited what can be taught or read in schools; and even had his allies force out the president of a liberally minded college.