Sidney Powell Has World's Pettiest Complaint After Georgia Racketeering Charges
The former Trump lawyer hid her complaint in a footnote in court filings.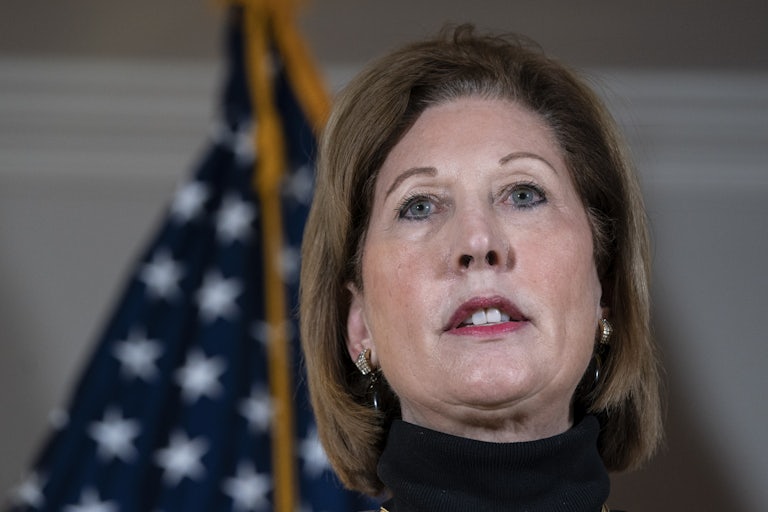 Drew Angerer/Getty Images
Sidney Powell, former Trump lawyer
Donald Trump's former lawyer Sidney Powell thinks that one of the greatest injustices to befall her for trying to overthrow the 2020 election is losing her TSA status, court documents revealed.
Powell was indicted in Georgia alongside Trump and 17 other co-defendants for trying to overturn the state's presidential election results. Powell was charged with racketeering, conspiracy to commit election fraud, conspiracy to commit computer theft, trespass and invasion of privacy, and conspiracy to defraud the state.
Her legal team filed a motion on Friday to dismiss the racketeering charges, and in the motion was buried this gem of a footnote: "Ms. Powell's longstanding trusted traveler status has been revoked by TSA for 'her criminal history'—in addition to other problems created by this wrongful indictment."
It's not clear from the filing if Powell is complaining about losing her status with PreCheck, Global Entry, or Clear—but it is funny that her priority upon facing racketeering charges is her experience with the TSA.
Powell has previously tried to argue that she should not be held accountable for trying to overthrow the Georgia election. Earlier this month, her lawyers requested that her case be severed from Trump's, instead of being tried alongside him as Willis wants.
Powell's lawyers argued that she is not connected to the other defendants because she never officially represented Trump in Georgia. They insisted that she could only get a fair trial if she were tried alone. Judge Scott McAfee was unconvinced and rejected Powell's request.